Kansas State University fans may be outnumbered in Lawrence, but they seem to make a lot of noise in their rival's back yard.
One such fan is Robin "Rollie" Spencer, who attended K-State from 1985 to 1989 and is a member of the Lawrence Catbacker Club.
Despite growing up in the Lawrence area, he never caught Jayhawk fever. Instead, he flies his purple flag with the Powercat logo outside his East Lawrence home. He also wears purple every day to his maintenance job at Meadowbrook Apartments, home to a lot of Kansas University students.
"Oh yeah. I either wear a purple T-shirt or a hat," Spencer said while giving a tour of his home, which is full of K-State memorabilia, including a picture of him and new head football coach Ron Prince. Spencer said he has met the coach three times and likes his enthusiasm.
The Lawrence Catbacker Club, which has about 150 members, is hoping to build membership on that enthusiasm with its annual Lawrence Catbacker Fall Football Classic, which begins at 6 p.m. today at the Eldridge Hotel. There will be a social hour, program, and live and silent auctions, which will raise funds for scholarships.
Spencer and his wife, Beth, plan to attend the event and have made a huge wreath full of K-State mementos for the live auction.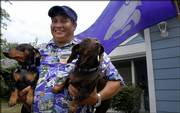 Rollie Spencer said he has had watch parties in his garage, lost $300 betting on K-State and ran down his street while hollering and waving the purple flag after the team beat KU in basketball last season.
So, what do KU graduates Tom and Stacey VanFleet, his neighbors across the street, think of all the purple fuss?
Stacey VanFleet said they heckle each other, but "it's all in good fun."
"We have no problem with it," she said.
The VanFleets have taught their 2-year-old daughter Darby to recognize the Jayhawk logo and say "Go Jayhawks" at the sight of one.
When football season rolls around in a couple of weeks, the VanFleets will cheer on the Jayhawks in Memorial Stadium and the Spencers will load up their van and drive to Manhattan to tailgate and root for the Wildcats.
Steve Wood, president and founder of the Lawrence Catbacker Club and a 1970 K-State graduate, called the rivalry a "friendly one."
He owns a Wildcat-themed bus called Woody's Wagon that used to make a lot of treks to Manhattan, where he now keeps the vehicle. But he does remember catching some friends trying to decorate his wagon with a crimson-and-blue theme.
Join the Catbackers
The Lawrence Catbacker Club's Fall Football Classic begins at 6 p.m. today at the Eldridge Hotel, 701 Mass. Here's what on tap: ¢ 6 p.m., hors d'oeuvres, silent auction and social time. ¢ 7 p.m., program by Wyatt Thompson, who is the "Voice of the Wildcats." ¢ 7:30 p.m., live auction. ¢ 8:30 p.m., silent auction results will be announced. The silent and live auctions benefit the Mike Ahearn Scholarship Fund. The cost to attend is $15.
But, according to K-State fans, a little heckling is a small price to pay for living in a "great town."
"It's happening in Lawrence," Wood said. "The K-State fans who live in Lawrence tend to be the most loyal."
He must be describing John Fiore, vice president of the club, who has lived in Lawrence for seven years.
Fiore is proud of his alma mater and drives around in a purple Pontiac GTO with a KSU license plate.
"I park it on top of the hill where everyone can see it," he said.
Fiore's wife, Jennifer, graduated from KU and tries to keep his purple passion to a minimum around the house.
If it were up to him, his wife said, they would have gotten married on the 50-yard line at K-State's football stadium.
"He wanted to have the groomsmen wear purple and white and have the bridesmaids wear blue and crimson," Jennifer Fiore said. "He's crazy about K-State."
Rollie Spencer's glad that he's not alone.
He said sometimes it can feel like it is him "against everyone," but maybe that's because there are only 2,033 K-State Alumni Assn. members in Douglas County, compared to 40,867 KU Alumni Assn. members.
But Spencer said he is "thick-skinned."
"If they heckle me, I just heckle them back."
Copyright 2018 The Lawrence Journal-World. All rights reserved. This material may not be published, broadcast, rewritten or redistributed. We strive to uphold our values for every story published.