Alvamar Golf Club head pro Randy Towner nailed it, much to the delight of Kansas State University fans surrounding him at mid-day Monday.
"I assure you, this will be the most purple on our golf course," Towner said to the crowd. "Ever."
The 2006 Jake Ochs Golf Classic - an event put on by the Lawrence Area Catbackers for the drastically outnumbered K-State fans around town - had more than double the participants compared to last year, with 113 golfers showing up on Alvamar's private side Monday.
One reason for the large turnout was a man who at 11:45 a.m. unloaded his clubs from a gray SUV, shook countless hands and signed even more autographs before teeing off - Ron Prince, K-State's new football coach.
Prince and 11 members of his staff golfed at Alvamar among passionate Wildcat fans, many of which live around Lawrence, the undeniable hub of Jayhawk faithful.
"Not surprised at all," Prince said of the KSU turnout. "Every single event we've had this summer, we've broken the attendance record. I haven't been surprised at all by the number of people that have come out."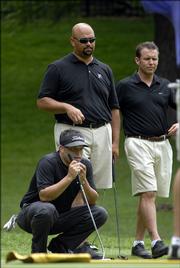 It's according to plan for Dick Luman, one of the organizers of Monday's event. He was part of a furious campaign to get Prince to play in Lawrence once the coach was hired after last season. The coaching staff's cameo Monday helped drive the tournament toward Luman's ultimate goal - big, big numbers.
"We're real dedicated to making this the largest K-State event in the state of Kansas," Luman said. "Doing this is Lawrence is no undertaking."
The turnout is way up from last year, when 45 golfers attended. Prince credits the surge to curiosity about KSU's new coaches, who replaced the retired Bill Snyder and his staff in December.
Luman, though, said it was more excitement than intrigue.
"I've met the man several times. He's awesome," Luman said. "I haven't seen this kind of excitement at K-State in a long, long time.
"Snyder laid a rock-solid foundation just so someone like Ron Prince can lay his shoes on it and just grow."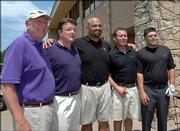 Prince's companionship was auctioned off before Monday's tournament. He played nine holes with two different groups - each of which had a winning bid of $500 to hack and mingle with their new coach.
Prince, who has a 14 handicap, said he held his own.
"I'm doing OK. I was putting decent early, and the short game was OK," Prince said. "A lot of these guys were long-ball hitters, so I was able to hang in there and use a couple of my drives."
It turned out to be a good day for Prince in Jayhawk country, but the next time he's here, likely Nov. 18 for the KU-KSU game, Prince pretty much can bank on getting booed.
He's ready. Having grown up in Kansas, he knows what to expect out of the state's biggest rivalry.
"I have a lot of respect for what coach (Mark) Mangino is doing here," Prince said. "He is obviously a hard worker, relates well to players and to people, and that's a big part of it.
"There's not an easy game in the Big 12, much less the North. We're aware of that. Every game is going to be hard to win, but that's our objective."
Copyright 2018 The Lawrence Journal-World. All rights reserved. This material may not be published, broadcast, rewritten or redistributed. We strive to uphold our values for every story published.