Stafford, Texas — To say this Houston suburb's got religion is hardly an exaggeration. It's more like an understatement.
Fifty-one churches and religious institutions sit inside this seven-square-mile city of 20,000 people, and a handful of others in the city's extraterritorial jurisdiction are asking to be annexed.
Stafford is home to almost every other kind and size of religious institution - the El Shaddai Dios Todopoderoso Ministry, the Philippine Trinity Baptist Church, the International Buddhist Progress Society's Chung Mei Temple. Is this too much of a good thing? Concerned city officials are trying to answer that question.
The problem: Thousands of acres owned by religious and affiliated institutions are exempt from the property tax rolls, and with only 300 acres of undeveloped land left, Stafford is looking for a legal way to say "enough."
"Our goal is to find a reasonable way to say to them (churches) that we've done our part in Stafford," said City Council member Cecil Willis Jr. "Please consider somewhere else."
Mayor Leonard Scarcella and other city officials say this is not about being anti-religious. Like other cities that have tried to control the growth of churches and other tax-exempt nonprofit organizations, Stafford is trying to find a way to preserve space for revenue-producing businesses.
City officials say most people who attend these facilities, which cater to a variety of ethnic and racial groups, are not Stafford residents but Houstonians or residents of nearby suburbs.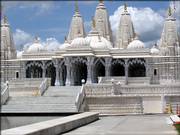 "We have to be very, very careful that we maintain the viability of the city," Scarcella said. Churches "receive the full benefits of the police department, the fire department, the building department. Whatever they need, they have it. They pay a building permit fee, and that's the extent of what they pay" to the city.
Governing what Stafford can do is the federal Religious Land Use and Institutionalized Persons Act of 2000, intended to stop government from imposing land-use regulations that cause a "substantial burden" on religious exercise without a compelling state reason.
As one of only three municipalities in Texas that have no city property tax, Stafford depends largely on sales tax revenue. Homeowners and businesses also pay taxes to support schools, the community college district, the hospital district and the water district. Churches do not.
Willis has made it his business the past two years to ask the representatives of each new religious facility the big question: Why Stafford?
Each said the congregation talked, visited and prayed about the decision. Their answer was, in essence, what Damian Tavarez, a member of the board of trustees of Iglesia Rios de Agua Viva, said in an interview: "We just feel that God directed us here."
"What argument," Willis said, "can I put up against that?"
Copyright 2018 The Lawrence Journal-World. All rights reserved. This material may not be published, broadcast, rewritten or redistributed. We strive to uphold our values for every story published.