Even though Thursday marked the first day of school at Free State High, Kyle Weinmaster only had one thought in his mind - hitting someone at football practice.
"I've been waiting for a while to do this," the senior defensive lineman said.
The Free State football team practiced in pads for the first time this season Thursday. The practice went from 3:30-7 p.m. You could tell Weinmaster was ready to take the field and issue some contact. He said the last time he played football in pads was the middle of the summer at a football camp.
The practice started with stretches and then branched out to team drills. Weinmaster slapped his teammates on the helmets to encourage them during a 7-on-7 drill. This was the first time the sound of the regular season hit Free State.
They were all handoffs to several running backs, and the offensive and defensive units met.
"SMACK."
Dozens of shoulder pads collided from opposite directions.
On one play, Weinmaster exploded out of his three-point stance and met an offensive lineman. He had the presence of mind to spin around to his right side, bounce off the opposing lineman and wrap the ball carrier by his feet. Lost yardage for the offense.
Photo Gallery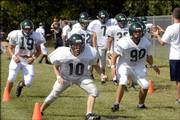 Free State football
"Very nice job, Kyle Weinmaster," Free State coach Bob Lisher said, intensely studying the drill through his Oakley sunglasses from one knee.
Senior center/defensive lineman Caleb Stephens also set an intense tone early in the practice. Aside from being the first player on the field, he said the atmosphere during the first practice in pads was noticeably physical.
"That's what I've been thinking about. I've been waiting to hit somebody all day," Stephens said.
The reason these defensive linemen were so ready for contact was a result of what they went through during the summer. They weren't in pads, and when they lined up in three-point stances, they would initiate contact on dummies, not other players.
"Hitting with pads and hitting with a dummy is like a difference between running into a pillow and running into a brick wall," Stephens said.
Most defensive linemen adopted a physical mindset Thursday. During one drill, a player would take his turn leaning in and hitting two other players. Coaches didn't want them to get too physical and often had to tell players to slow down and take it easy on each other.
This was at the beginning of practice, though. At the end, the team took part in the "Oklahoma" drill, which Lisher said contained some "pretty intense hitting."
"That's the first time you really get to unload on people, and line up and block, and you have to tackle and carry the ball, and it kind of reveals things," Lisher said about the one-on-one drill.
Lisher said it was exciting to see his players gear up in pads, but he usually sensed anxiety in younger players, since it was the first time they lined up in pads.
"You get some kids who look very good out of pads, but then you put the pads on and they don't look so good," Lisher said. "This is kind of a separation time where we can find out who has that natural ability to get aggressive and hit people and who needs some work with it."
Copyright 2018 The Lawrence Journal-World. All rights reserved. This material may not be published, broadcast, rewritten or redistributed. We strive to uphold our values for every story published.