Two days into the school year and the Lawrence Boys and Girls Club already had a waiting list of youngsters wanting in the club's after-school program.
"I think the waiting list shows that we could definitely use more space," executive director Janet Murphy said Thursday.
Boys and Girls Club leaders are keeping their fingers crossed that a vacant lot adjacent to Hobbs Park in East Lawrence - the former site of the Lawrence livestock sale barn - can be purchased to house a new expanded Boys and Girls Club Center.
The approximately three-acre site - just east of 11th and Delaware streets - currently is owned by a group led by Lawrence developer Duane Schwada. Steve Schwada, a member of the ownership group, confirmed that he has been in discussions with the Boys and Girls Club about the site, but no deal has been reached.
Plans for a new building also haven't been developed. Murphy, though, said the center's current building at 1520 Haskell Ave. is too small. It can accommodate about 150 students as part of the after-school program.
"Our waiting list will get up to about 100 kids, and at that point parents usually stop signing up," Murphy said.
The after-school program provides a place for students from 3 p.m. to 7 p.m. It offers the students help with homework, as well as providing career counseling, leadership classes, cultural activities and recreation.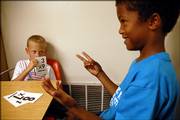 Rumblings of a possible purchase of the old sale barn site also can be heard in City Hall. The city provides funding for the Boys and Girls Club operations, and several city commissioners said they're open to exploring the city's ability to help purchase the site.
"It could be a great partnership opportunity," City Commissioner Boog Highberger said. "The concern will be the cost."
Cost estimates haven't been determined yet for the land or a new building. But Highberger said he liked the idea of the center staying in East Lawrence and being located next to a park. He said if the city participated in the project it might be possible to design the building in a way that it also could be used by the public.
City Commissioner Sue Hack also said she was interested in the project, depending on the cost. She has been a strong proponent of the program, saying it not only helps students but also benefits businesses by cutting down on lost work time by employees who also are parents.
"I think there are some economic consequences if we don't provide safe places for children," Hack said.
The program serves about 1,000 students at 10 schools and at its current center. But the center is considered the main site for the program and serves a large portion of East Lawrence. Murphy said the program has been growing rapidly, increasing from about 500 students five years ago.
The sale barn site previously has been mentioned as a good place to expand Hobbs Park, and as a possible trailhead for a proposed rail trail that would run along the abandoned Santa Fe Railroad line in East Lawrence.
James Grauerholz, a member of the city-appointed group studying the possibility of the rail trail, said he thought there was a possibility the site could accommodate both a new center and additional park activities.
"Anything to enhance the possibility of Hobbs Park being a communitywide asset is great to consider," Grauerholz said.
Copyright 2017 The Lawrence Journal-World. All rights reserved. This material may not be published, broadcast, rewritten or redistributed. We strive to uphold our values for every story published.