Photo Gallery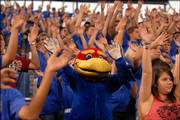 Traditions night
School hasn't started yet, but Anna Ferber already feels comfortable at Kansas University.
"It's just the right place," the freshman from Kansas City said. "It's just home."
A new flock of thousands of Jayhawks flew into Kansas University's nest Monday, ushered in with Traditions Night at Memorial Stadium. The event kicked off Hawk Week, activities, which are open to all students.
KU is welcoming roughly 5,700 new students this fall, including nearly 4,200 freshmen and about 1,500 transfer students.
"Tonight marks the beginning of your journey as Jayhawks," Marlesa Roney, vice provost for student success, told the crowd.
The young birds, almost all dressed in blue T-shirts, had a crash course in the KU tradition. They sang the Alma Mater, the Rock Chalk Chant and the fight song. They learned to "wave the wheat," the tradition for touchdowns during football games.
And they heard the truth behind the mount they'll spend their four years atop. Oread is not a cookie, but a mountain nymph, KU English Professor Jim Carothers told the students.
For some, college seemed a bit daunting.
"You're being thrown out in the real world and you don't know what to expect," said Matt Tingle, a freshman from North Carolina.
But they're ready for an adventure.
Anthony Bellcourt, a freshman from Illinois, said he's ready for the total college experience.
"Good grades," he said. "Good friends. Good times. Good memories."
Copyright 2018 The Lawrence Journal-World. All rights reserved. This material may not be published, broadcast, rewritten or redistributed. We strive to uphold our values for every story published.