New Orleans — Evacuees who escaped Hurricane Katrina's flooding on their own are faring better almost a year later than the thousands rescued and dumped in cities saturated with evacuees, according to a report released Monday.
The study, conducted by seven law firms enlisted by the Appleseed Foundation, a nonprofit social advocacy group founded by Ralph Nader, also found nonprofit and faith-based groups and local and state governments acted more quickly and efficiently than the federal government.
Gulf Coast evacuees in Birmingham, Ala., and Atlanta generally are doing better than those in Houston and San Antonio, the study found.
Birmingham and Atlanta had fewer evacuees, and many of them had the money and connections to flee the storm on their own.
Houston had more evacuees, mostly people who couldn't get out of New Orleans and had to be rescued after the storm hit. The city received a lot of New Orleans' poor who did not have the resources to evacuate on their own, and many arrived with little more than the clothes they were wearing. Many were also physically or mentally ill.
Providing thousands of evacuees with housing, education, health care and jobs was a daunting task that fell largely on local governments, said David Gross, a Minneapolis lawyer who helped conduct the study.
"The scope was enormous and unexpected," Gross said Monday. Many of the short-term solutions put into place a year ago to meet evacuees' needs aren't working as long-term solutions, he said.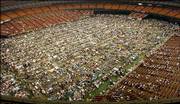 Generally, evacuees who landed in cities with fewer evacuees fared better, the report found. "They were able to be absorbed into the housing system and into the health system better than those in cities that received more evacuees," said James Howell, project manager for the study.
Houston, which initially received an estimated 250,000 evacuees, now has about 150,000 living there, the study found. With them has come an increase in crime.
Houston police believe the evacuees are partly responsible for a nearly 17.5 percent increase in homicides so far this year over the same period in 2005. About 21 percent of Houston's 232 homicides through July 25 involved an evacuee as either a suspect or a victim, according to police, who attribute much of the bloodshed to fighting among rival New Orleans gang members.
In Atlanta, where about 100,000 evacuees initially were living, an estimated 70,000 to 80,000 are still there. Birmingham took in an estimated 20,000 but now is down to around 1,500.
San Antonio had a relatively small number of evacuees - estimated at between 25,000 and 35,000. But, like Houston, it took in many poor people, many of them ill, who had to be rescued. An estimated 15,000 remain there, the study said.
Copyright 2018 The Associated Press. All rights reserved. This material may not be published, broadcast, rewritten or redistributed. We strive to uphold our values for every story published.