Asbestos removal in the gymnasium and construction throughout the school forced the Lawrence High girls volleyball team to conduct its offseason strength-and-conditioning program under the balmy Lawrence sun three to four days a week.
"I probably complained about being outside more than they did," coach Molly LaMere said at the Lions' first practice Monday. "Every single day they were pushing each other."
LaMere hopes the team's willingness to work wherever and whenever would help the team improve from last year's 14-24 record. In her second year, she said her 30- to 35-girl squad had the intangibles to help build an enduring program.
"They're great girls. They work so hard. They want to get better," LaMere said. "We have great leadership on this team."
The team's four seniors exerted that leadership during a busy summer, which included a Lawrence High camp, a Kansas University camp, once-a-week sessions in Tonganoxie and even helping LaMere conduct camps at South Junior High.
"They were willing to do whatever they could," La Mere said. "They were great kids on and off the court."
Forced off the court because of the construction issues, two seniors, Emily Renfro and Amanda Weishaar, helped lead the team through the outdoor jumping, abdominal exercises and sprint work as part of their conditioning sessions.
Photo Gallery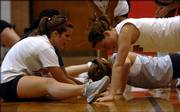 LHS sports
Renfro, a 5-foot-7 outside hitter, spent the summer focusing on improving her defense and aiming as a hitter.
"I'm obviously not the tallest of the bunch," Renfro said. "So I really need to be smart as to where I place the ball."
Weishaar's 6-0 height makes passing, hitting and blocking her strongsuits. A leader by example, she will aim to become more vocal this year while making the transition from the left-side to right-side hitter.
Players at every position spent the first day of fall practice performing several of the necessary measuring stick tests, including timed shuttle runs and tests for pushups, vertical jumps and sit-ups. They also spent Monday working on ballhandling, setting and passing - skills honed during their summer camps.
Because of an intense offseason program and having adjusted to their head coach, Weishaar envisions her team storming out of the gate.
"We'll start off strong," she said. "Last year we got in a hole and weren't able to dig ourselves out."
Football
A traditional powerhouse, Lawrence finished 10-2 and reached the semifinals in 2005. The Lions, however, must replace 18 departed seniors and the leadership they instilled. More than 80 kids, including 38 sophomores, will try and fill that void.
"This will be a rebuilding year," said Ron Commons, Lawrence High athletic director.
Though inexperienced, Lawrence features a young and athletic roster. Chance Riley will quarterback the offense while key contributors Paul Finch, a guard, and Nick DiBasse, a tight end, try to come back from knee and back injuries, respectively.
"Those are all things were concerned with and watching with a little anxiety," said coach Dirk Wedd.
Wedd's team began practicing on Monday but will not put on pads until Thursday.
Girls Golf
Like the football team, the girls golf team will be very young. Two of the departed seniors qualified for state last year, but head coach Mike Luis should have a deep squad, featuring 12-to-15 girls.
"Luis is looking forward to a young bunch of kids," Commons said.
The golf team will practice at Alvamar golf course throughout the fall season.
Cross Country
Both the girls and boys squads began practicing on Monday. Junior Kelly Renfro, a medalist in the state tournament last year for the girls team, is the most notable returning runner. Renfro, 16, was the women's overall winner in the Aug. 5 Unity Run, which served as a preview for the fall season. Athletes ran from Free State to Lawrence during the 10K fundraiser, and runners from both schools participated.
Boys Soccer
The Lawrence soccer team typically has started the season strong before lagging down the stretch. This year's team, however, features potential as the Lions continue to build a team, which has been overshadowed by the recent success of the school's football team. "Our soccer programs are getting better," Commons said. "We're getting better athletes." Those athletes will practice off campus at Holcomb Field near 25th and Iowa during the fall season.
Girls Tennis
Perhaps no Lawrence fall program has undergone as much change as the girl's tennis team. The Lions squad will have a new head coach, Steve Hudson, and a new assistant coach, Mike Gillam. Both coaches expressed optimism about the season and expect as many as 30 girls to fill out the roster. "There will be a lot of competition," Commons said.
Gymnastics
The two-time defending state champs look to continue their recent success. Junior Mallory West, who has won the individual all-around competition the last two years, will lead the squad. West, however, must rebound from reconstructive ankle surgery during the offseason. Because of construction at the school, Lawrence will begin the season practicing at the gymnasium of rival Free State.
Copyright 2018 The Lawrence Journal-World. All rights reserved. This material may not be published, broadcast, rewritten or redistributed. We strive to uphold our values for every story published.