Remember Nano pets? You know, those tiny, egg-shaped keychains with screens that display a virtual "pet"?
By pressing buttons, you could feed your Nano, clean up its messes, pet it and, with neglect, even kill it.
It's hard to believe that those pixilated critters were once all the rage in school. That's because these days, having a Nano pet swinging from your belt loop just
doesn't cut it. Now, the "cool kids" tote iPods and trendy cell phones.
Here's a rundown of the latest nonessential school supplies dictated by peer pressure. Let's hope they have more staying power than Nano pets.
i-Phenomenon
Ever since Apple introduced flashy, less-expensive mp3 players like the iPod Mini, Shuffle and Nano, the trendy gadgets have been flying off the shelves.
First the phenomenon hit college campuses. Now, white earbuds seem to be sprouting from elementary-age ears, too.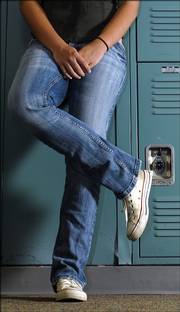 Ask anyone under 18 why they like iPods - chances are, they won't be able to tell you.
What they can tell you is how many of their friends have one, how much they use theirs and which version is currently the coolest.
"The nano," says Jennifer Pyle, an 11-year-old girl from Eudora. Pyle considered the Nano before settling on the less expensive Shuffle a couple of months ago.
She says buying a non-iPod mp3 player never crossed her mind.
The only thing cooler than having an iPod is collecting all sorts of accessories to go with it. Now, you can buy an iPack- a backpack that plugs into any mp3 player. The strap contains buttons that change the song and control the volume. These bags cost about as much as the iPod Shuffle: $60.
Yusefa Carmack's four children won't be getting the iPack.
As the Carmack family searches for school supplies at SuperTarget, 3201 Iowa, one son approaches the shopping cart with a sleek black messenger bag, which Mom quickly dismisses as too expensive. They agree on a similar style that costs less.
She says her children always want the expensive backpacks.
"Which they don't get," Carmack says. "They get the cheaper ones."
Grade-A gadgetry
Amanda Simpson, 17, has had a cell phone since seventh grade.
But she just recently scored a Motorola RAZR. The ultra-thin phone is, by all accounts, the most popular phone among teens today.
"It's the big thing; everyone has one," Simpson says. Her friend Courtney has one, too, and they text each other "a lot."
"Texting's big right now," Simpson adds.
RAZRs usually cost between $250 and $300, but, because of a rebate, Simpson paid $150 for hers.
As she fiddles with the shiny, sleek device, Simpson lists its features.
"It's just skinny. I like it because it's big enough, but it's little still. It takes good pictures. I also like the ring tones on it," she says.
While the RAZR may be the ultimate high school status symbol, elementary-age students are more focused on having a cell phone. Any cell phone.
Eight-year-old Kennedy Sullivan wants one.
"Oh yeah," she says, her eyes widening and her head nodding.
She explains that her high school-age baby sitters are always texting on theirs.
"With video games and cell phones, they just get, like, really crazy about it. They start texting too much," Kennedy says.
Her mom, Cristy Sullivan, believes it's a little too early for Kennedy to get a cell phone.
"I don't think she needs a cell phone, but an iPod would be fine," Sullivan says before hinting that Santa might bring a Shuffle or Nano this year.
But, she admits, cell phones aren't all bad.
"I think as a safety thing, they're smart. But should they have free license to just call whoever? No."
Cool kicks
Mary King, a sales associate at Shark's Surf Shop, 813 Mass., says that shoe trends can be divided up into three categories: elementary, middle and high school.
"Little kids go for the Crocs," she says. These Technicolor foam clogs are reportedly very comfortable and remain trendy. High school and college-age students wore them last year, but this year they're cradling the feet of elementary school students, who often swap straps for a hip, mismatched look.
Is your child ready for a cell phone?
Give them this pop quiz to find out the real reason they're begging for a RAZR. 1. Whose number will you dial most frequently? a. Mom and dad b. Older brothers and sisters, to arrange rides home c. Your best friend d. Your crush from chemistry class
2. How long do you expect each call to last? a. Under one or two minutes, max b. Five minutes, sometimes more c. At least 10 minutes d. As long as it takes to get the latest gossip
3. What's your favorite cell phone feature? a. The important number list, so I can remember who to call in an emergency b. The built-in camera c. The brand name and minuscule size d. The games that I'll play during history lectures
4. How many times will you call or text each day? a. 0-3 b. 3-6 c. 6-10 d. All of the above. Added.
5. Which phone do you see yourself with? a. Anything that works b. Something small enough to fit in my tiniest pocket c. The exact one that ____ has d. I'll flip if I don't have a RAZR or two before school starts
RESULTS Mostly A's = Either he/she is lying or is really desperate. Probably both. Give them the phone. Mostly B's = Probably ready. Give them extra credit for honesty. Mostly C's = Close, but not quite ... Maybe in a year or two. Mostly D's = A big no. Sounds like peer pressure inspired his/her phone lust.
Ten-year-old Connor Henrichs has two pairs, one red, one green.
Today he's sporting the green pair with his Hillcrest Hawks T-shirt.
"You can like feel the air on your feet," he says as he shakes each well-worn Croc from side to side.
He adds that most kids he knows own at least one pair.
For middle-school-age students, it's all about Converse Chuck Taylors. These classic kicks come in every color and pattern imaginable. Just three or four years ago they were strictly hipster attire, but now you'd be hard-pressed to find a preteen who doesn't own a pair.
King says that high school students wear Converse, too, but that they're onto another trend: Lacoste. She says Sharks is selling out of all things emblazoned with the green alligator. From shoes to polo shirts to hats, Lacoste is the must-have brand for prepster high school students.
But according to Amanda Simpson, Nike Shox are "big" right now. Very big.
The expensive high-tech kicks, which have a spring-like cushion under the heel, are popular among high school students.
Top trends
Drinking water has never been so trendy.
Forget the 32-ounce time-worn Gatorade jug with the chewed-up spout on top. Kids today are going high-tech with polycarbonate lexan water bottles.
The new material doesn't absorb odors or stains and does a pretty good job at insulating cold or hot drinks. Plus, the bottles come in a variety of transparent colors from hot pink to forest green.
Check out the backpack of any high school student - especially athletes - and you'll probably see one dangling from a spare loop.
Another trend is showing your support for the cause du jour with rubber band-like bracelets.
"Livestrong" bracelets started this rage. The $1 yellow bands are intended to support cancer awareness. But K-12 students have given the bands new life by buying them in bulk and in tons of different colors.
Students then swap them, match them and write cutesy nicknames on them to make them their own. Think "player" or "brat."
And for students who can't survive the boredom of a long bus ride with music alone, new portable gaming devices are a must-have.
There's the Nintendo DS, which costs $150. With the DS, you have all sorts of video games at your fingertips, no outlet required.
Then there's the Sony PSP which plays video game discs as well as special movie discs.
The Sony PSP can cost up to $250, which makes it very pricey and, (see the pattern?) very popular among kids.
Copyright 2018 The Lawrence Journal-World. All rights reserved. This material may not be published, broadcast, rewritten or redistributed. We strive to uphold our values for every story published.