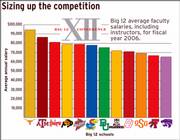 Not long ago, Kansas University faculty members didn't have to search very far to find a reason to complain about the way they were treated by the university.
Most could look at their paycheck, check some national data and realize they were paid much less compared with similar universities elsewhere.
These days, there's less of that complaining going on because of five years of salary boosts that have shot KU closer to national averages.
"I think people are feeling better," said Ruth Ann Atchley, a psychology professor and chairwoman of the Faculty Senate. "Whether they're happy or not, I'd never want to come out and say faculty are happy with current compensation."
The salary boosts - an average of 2 percent a year in addition to the money provided to all state employees - were made possible by increased tuition rates in recent years.
The raises put KU's average faculty salary at $77,993 for the 2005-2006 school year, closer than it was to the average of universities KU often compares itself with.
KU averages
Going into the tuition enhancement plan, KU's average faculty salary was 92.6 percent of its state-selected peer institutions, 96.5 percent of average Big 12 salaries and 88.3 percent of the average of the 14 public members of the American Association of Universities, another KU peer group.
KU's average salary is now nearly the same as the average of the five "peer institutions" KU tracks for many statistical areas. The average of those five universities (the universities of Colorado, Iowa, North Carolina, Oklahoma and Oregon) was $78,307 last school year.
KU's average also is 98.1 percent of the average Big 12 university faculty salary ($79,506).
But Lindy Eakin, vice provost for administration and finance, notes KU still lags behind the average of the 14 public universities included in the AAU. KU's $77,993 average is 92.3 percent of the $84,464 average of the AAU schools.
"We don't know what everybody else is doing for next fall, but based on (fiscal year) '06 data, it looks like we've made significant progress in the last couple of years," he said. "It's a big improvement, but it's not as far as we'd like to be."
KU's five-year tuition plan, which more than doubled rates, ends this year. Officials have proposed locking in tuition rates for incoming freshmen for four years starting next fall.
Eakin said he didn't know what plan would be set for faculty salaries, but the goals remained the same.
"It's to make as much progress as possible," he said. "That's really it. In any given year, you can make progress, but you just don't know what everybody else is doing."
Statewide issue
Atchley said the Council of Faculty Senate Presidents - the committee consisting of faculty leaders from the state's regents schools - plans to make compensation a statewide issue this academic year, and members of the Kansas Board of Regents agree it should remain an issue. Backing off salary increases could mean state universities won't keep pace, she said.
"It's the topic on everybody's lips," she said. "With the five-year plan ending, we made strides, but we're not where we want to be - we're not at the mean (of peer universities). It's good to hear (regents) are not letting this drop. They're not thinking it's taken care of, so they'll pat each other on the back and move forward."
She said progress made in the past four years shows that it wouldn't take much to make even more progress.
"The fact we've been able to somewhat catch up over four years shows it's not an insurmountable problem," she said.
Other issues
But Atchley and Eakin agreed that the faculty compensation issue wasn't all about money. The broader perspective is that other issues, such as the recently revised tenure policy that is friendlier to new mothers and increases the capacity at Hilltop Child Development Center, also help recruit and retain top faculty members.
Eakin noted before the tuition enhancement plan, in a time shortly after significant state budget cuts, faculty were restricted on travel expenses to conferences, had to limit long-distance phone calls and were rationed postage and copy paper.
But Eakin said administrators realize the importance of the bottom line when it comes to salaries, especially for recruiting new faculty.
"One thing people say," he said, "is we've got a better faculty than our salaries deserve."
Copyright 2018 The Lawrence Journal-World. All rights reserved. This material may not be published, broadcast, rewritten or redistributed. We strive to uphold our values for every story published.