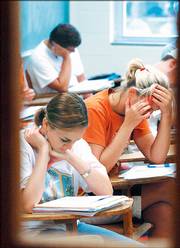 Next year, summer school at Kansas University should be a lot different.
More students, more classes, more choices.
"It's going to be very exciting," said JoAnn Smith, a former vice provost and dean of continuing education, who's heading up an effort to overhaul the university's summer and intersession offerings.
The campaign, she said, is designed to boost efficiency, help students graduate in four years and offer a wider array of classes.
Smith said plans called for seeking student and faculty input before assembling a specific plan later this fall.
"We're just beginning to pull information together," Smith said during a late-June interview.
Some buildings, she said, may be better suited for summer classes, some classes may help more students graduate in four years, and faculty may prefer to teach certain classes in the summer.
"That's all being looked into," Smith said.
The campaign, she said, is in keeping with a national trend aimed at turning universities full-time - rather than part-time - institutions for learning. The facilities, after all, are there. They may as well be used.
"We have a lot of summer activities going on. We don't want to take away from that," Smith said. "The idea here is to add academic vibrancy to the summer campus."
In recent years, about 9,200 students have attended summer school at either the Lawrence or Edwards campus.
Smith said plans also call for expanding study abroad and intersession opportunities.
The university's study abroad program already is "very strong" and "has national reputation," she said, adding the intersessions - courses offered between fall and spring semesters - need work.
It possible, she said, that additional intersessions will be available as early as this winter. Some may be for two weeks, others for four weeks. Some may overlap into the spring semester.
"We intend to be very creative," Smith said.
Most of the overhaul, she said, will focus on undergraduate coursework to ease the strain on students trying to graduate in four years.
Adam Hurly, a sophomore from Sioux Falls, S.D., welcomed news of the likely expansion in summer school offerings.
"I'm a double major - journalism and film," he said. "For a while I thought taking five years to graduate wouldn't be so bad, but now that I've seen some of my friends graduate, I realize that extra year could get to be pretty long. I don't want to do that."
Hurly, who's also KU Student Senate's executive secretary, took western civilization and strategic communications last summer.
"These are courses that, really, you just want to get out of the way so you can focus on your major," he said.
Summer school, he said, has its pros and cons:
¢ "There's less homework to balance, but there's more of it,'" Hurly said. "It seems like you learn more, faster."
¢ "You can't work (job) as much, so it's harder to make ends meet," he said. "But, still, it's cheaper than having to stay in school for another year."
Copyright 2018 The Lawrence Journal-World. All rights reserved. This material may not be published, broadcast, rewritten or redistributed. We strive to uphold our values for every story published.