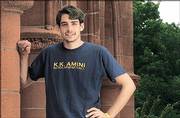 Jason Boots wants to give back to Kansas University.
The National Merit Scholar got a free ride to school.
"Since I didn't have to be spending all my time working for college, I needed to spend a lot of time giving back to the university," the Plano, Texas, native said. "It really clicked - this is where I can make the greatest impact."
Boots, a 22-year-old fifth-year senior, is KU's new student body president.
KU's student government is the student's direct connection to administration. The students bring concerns to administrators and also watch over the dozens of student groups.
It's not a lucrative venture for Boots. He'll make $8 per hour for about 20 hours a week. And he can upgrade his parking permit, but not without paying for the enhancement.
Boots isn't even sure whether the job will be a resume builder for him. It depends on what career he chooses - and he's still toying with teaching, engineering consulting, business and politics.
But Boots gets a window office in the Kansas Union and the chance to be involved and spur change.
Boots and his Ignite party made a slew of campaign promises for how they want to get rolling. Among them:
¢ Bike lanes on Jayhawk Boulevard. It can be rough riding for bicycle riders on Jayhawk Boulevard, Boots said. But to change conditions would require relocating the more than 40 parking spaces that line the drive. But because buses stop on both sides of the boulevard, a bike lane on one side might be dangerous. The students are exploring creating a bike lane that would go down the center of the road.
"The main thing is to create a safe place for students to be able to ride their bikes on campus," said student body vice president Melissa Horen.
¢ Wireless campus. The students want to expand wireless computer access. KU first went wireless in 2003 and has since expanded to about 30 zones. But Boots says there could be more, including zones in such areas as Blake and Twente halls.
¢ Affordable textbooks. Boots wants to beat back the rising costs of textbooks. One way, he said, is by pressing Kansas to follow a plan tried in Texas to the make textbooks tax-free.
He also wants to improve advising for students.
Boots is working toward dual majors in mechanical engineering and business.
The Texas native toyed between going to the University of Texas and KU. But he was attracted to what he saw as a more welcoming, less cutthroat environment at KU.
Boots was drawn to the scholarship halls, which helped him quickly feel at home, he said.
Boots first became involved in student government as an engineering senator, and he stayed involved. Student Senate at KU has the power to make change, he said.
"Our administration recognizes that in order to have a great university and recruit the best students, students have to be happy," he said.
Horen described Boots as rational and calm. He doesn't make a quick decision, she said, but works through an issue and tries to come to the best solution.
He also works late.
"You can find him here when no one else is here," Horen said.
Copyright 2018 The Lawrence Journal-World. All rights reserved. This material may not be published, broadcast, rewritten or redistributed. We strive to uphold our values for every story published.