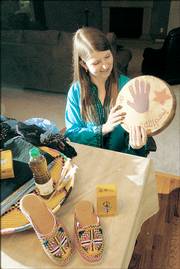 As the Peace Corps celebrates its 45th anniversary, Kansas University can celebrate spending the last three years in the Corps' top-25 universities for recruitment.
The organization was formed by an executive order of President John F. Kennedy in March 1961. But in 1960, Kennedy made his plans for the Peace Corps public during a campaign speech at the University of Michigan.
One young student in that Michigan crowd, Betty Baron, is now the coordinator for KU's Peace Corps program.
From the beginning
Like many Peace Corps volunteers, Baron took the idea of joining the Peace Corps and weighed it for a while before she decided to sign up.
She was living in San Francisco in 1965 and working a job she didn't care much for.
"One day during my lunch hour I began to daydream about what I would do if I could do anything," she said. Travel and helping people came to mind. She thought of the Peace Corps. "I made one of those little lists of pluses and minuses, and I couldn't think of any minuses."
She applied and found herself assigned to leave for Nigeria to do a standard two-year post. But then her boyfriend proposed marriage.
"'You want to marry me?' I said. 'I'll be back in two years and give you an answer.' But he said, 'If I go with you, will you marry me?'"
That changed her mind.
She turned down the post in Nigeria and, while waiting on her husband to finish his doctorate, turned down posts in Turkey, Afghanistan and Nepal. And finally the newlyweds took a new assignment in Africa.
"The day he got his Ph.D., we headed off for Ethiopia," Baron said. "All the other students filed out the of the stadium one way, but we went out another way to a car with all of our worldly goods and drove to the plane to leave for Peace Corps training."
The couple served from 1966 to 1968, and by 1970 had found themselves settled in Lawrence. It wasn't until 2003 when Baron saw an advertisement looking for a coordinator for the KU program that she became directly involved with the Peace Corps again.
"'Oh, a job at the Peace Corps,' I thought. 'I would love to do that,' and I do."
And since then, recruitment has climbed.
Building the Corps
Before 2001, the Peace Corps didn't have an official presence on the KU campus. It relied on regional recruiters from Kansas City or Denver to occasionally drop by and drum up support.
Stacy Sabraw, a Peace Corps volunteer from November 2003 until June 2006, said that she was aware of the Corps when she was a KU student in the early '90s, but wasn't ready to join.
"The seed was planted then," Sabraw said, "and it finally came to fruition 10-ish years later."
"At that time, there wasn't a Peace Corps agent at KU. Now Betty is there, and I'm really excited about it," Sabraw said. "This part of the country will really benefit from the experience that it brings."
April Davies, a Lawrence native who worked on water sanitation and public health in El Salvador, attests to Baron's activism.
"Whenever there's a community event, she tries to get a table," Davies said.
Davies is part of a stable of return volunteers who go speak with Baron. At least, Davies will be until she leaves Lawrence this fall to work on her master's degree in public health at Emory College in Atlanta.
For Baron, getting KU's national ranking up has never been a goal.
"In 2004, I was really proud because we made the top 25 - at 25, of course. And then in 2005, we were number 23 and now number 18 - I keep saying that we need to get up to the Big 12, so that's what I tell people I'm working on now."
But that's just a little joke.
"I'm not just looking for any warm body. We are looking for people who really are ready and want to commit," Baron said. "I didn't really think about the numbers last year until they announced them. Then I suddenly thought, 'Well, I hope we didn't slide in the rankings.'"
Not everyone, but anyone
In its 45 years, the Peace Corps has sent 182,000 people to 168 countries and currently has nearly 8,000 people operating in 65 posts serving 75 countries - places as exotic as the Pacific Islands of Vanuatu or as close as Mexico.
The diversity of needs worldwide has the Peace Corps looking for a wide range of people to perform tasks in education, business development, environment, agriculture, health and information technology.
The organization, Baron said, is looking for people with know-how and life experience, not necessarily just young people or college-educated people.
"Do you know what our upper age limit is? We don't have one," she said. "The oldest volunteer from Kansas was 79 and living in a yurt in Mongolia."
The diversity of needs also means that on the KU campus, all majors are welcome. People with general experiences tend to be assigned tasks such as teaching English, community development, and health and HIV counseling.
Sabraw, who was working as a copy editor in New York when she joined the Peace Corps, was stationed at a rural village in Morocco where she taught health care. It was a placement that she said was almost accidental.
"In hindsight, I feel so blessed to have been in a Muslim country," she said. "Some people want to live in a geographic area. My priority was the work."
Her work in health care was certainly cut out for her.
"There is literally no word in Moroccan Arabic for 'prevention.' In interviews, I'd ask women what they could do to prevent illness, and they would say, 'nothing.'"
Her goal, like the goal of all Peace Corps jobs, was capacity building - trying to give these people the knowledge to help themselves.
"You don't just go in, do it and leave," she said. "Make your project sustainable."
Copyright 2018 The Lawrence Journal-World. All rights reserved. This material may not be published, broadcast, rewritten or redistributed. We strive to uphold our values for every story published.