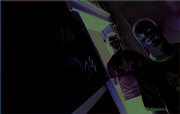 Kansas University knows how to party.
In Playboy's only ranking this decade of the nation's best party schools, KU infamously ranked ninth in a list of 25.
Though school administrators weren't thrilled to hear the news, many students still take pride. Love it or hate it, two KU students provide a list of partying tips - straight from the horse's mouth.
On size
¢ For big parties, Evan Toren's No. 1 piece of advice is to invite people you trust. "A good ratio is to have more people there who you know than people you don't," the KU junior said. "If someone tries to steal something, people are looking at them. Our friends are looking out for us."
¢ To keep a party small and under control, KU senior Alison Haag suggests simply inviting friends by a phone call. A direct conversation will give hosts a close idea of how many people will come. If friends want to bring other people, Haag makes sure they know to ask.
¢ For larger parties, Haag said facebook.com is a good way of getting the word out. But she warns of attracting too many unknown partygoers. "If you invite people that way, friends bring their friends, and at our parties if you're a friend three times removed, you've gotta go." To avoid these unwanted situations, she has seen party invitations on facebook.com that explicitly said "friends of friends" were not invited.
On alcohol
¢ "If your party is BYOB, people are drinking from their own dime and won't get as drunk as they will with a keg," Haag said. "If they bring one bottle of wine, that's all they drink."
¢ Toren's parties are low on booze. "It's OK if people drink, but that's not the focus," he said. "It's better not to have a party where everyone gets drunk. People can be responsible, clean up, take the trash out. You don't think about these things when you throw a party, but it's important."
On food
¢ Haag's biggest piece of advice for a successful party is to provide food. "So many people get sick off of just drinking and not eating," she said. She and her three housemates provide Velveeta and salsa in a slow-cooker with chips. "It's cheap - if everyone brings their own beer, you can buy a block of Velveeta," she said. "If people are drunk and eating, they don't get as sick and aren't hungover the next day."
¢ Make sure people drink water to compensate for the dehydration caused by drinking alcohol, Haag said. "We water them down."
¢ If alcohol isn't a big part of the night, Toren suggests providing finger foods to snack on as a courtesy.
On space
¢ Haag lives in a small house, so she keeps her parties primarily on the porch, which is well-lit. "If you're on the porch, you can't cause as much trouble," she said.
¢ Toren lives in a three-story house with a basement, but parties are contained to the main floor only. "We don't want people going in our rooms," he said. To keep people contained, he relies on friends to help set boundaries. "We tell our friends that upstairs is off-limits, and nobody goes up there."
¢ When throwing bigger parties and inviting strangers into your home, theft is a real concern. Haag is strict about not allowing parties to spill over into her personal space because she's seen the negative events happen to others. "When people throw keggers, afterward you're getting e-mails like, 'Who took that? Who took the tap?'"
On rules
¢ Haag said if any friends were ever not able to get home on their own, they're welcome to sleep on the couch. "We want everyone to have a good time and be safe, too," she said.
¢ Haag said she's had friends who appoint one housemate to stay sober to make sure a party stays under control. She said she doesn't generally need to worry in this area, because she's careful to invite only people she trusts to her parties.
¢ In Haag's opinion, if people get sick at a party, it's their own fault. "If you get sick, I'm not holding your hair back," she said. One of her rules is that she won't take care of sick partygoers, unless they're roommates, of course.
¢ "We don't do anything we know is illegal," Toren said. It hasn't happened yet, but if anyone at a party of his were doing drugs or any other suspect acts, he would simply ask them to leave. Smoking is OK, but only on the porch.
On music
¢ At Haag's parties, music is a staple but not a focus. "We'll turn on the radio and call it a day unless someone calls themselves a DJ," she said. She and her housemates keep the volume low, at a "background music" level, to avoid noise complaints.
¢ "Try to capitalize on people's strengths," Toren said. He has two friends who are DJs, so having them DJ the house's parties is natural.
On preparation
¢ Toren suggests a fine balance when it comes to party preparation. The first annual Keith Day party sported a theme that was funny because it was so random: One roommate made a stencil out of Keith's face. "Chris printed Keith's head on everything he could think of - the deck, the toilet seat, fruit, the front door." This year's decor wasn't as inspired, he said, and didn't go over as well.
¢ When it comes to spending money on a party, Toren suggests planning ahead to appropriately split up costs. At one party this year, "too few people spent too much," he said. Next year, he'll make sure early on that all roommates split the costs evenly.
Copyright 2018 The Lawrence Journal-World. All rights reserved. This material may not be published, broadcast, rewritten or redistributed. We strive to uphold our values for every story published.