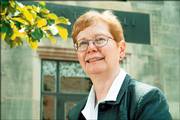 Kansas University's School of Social Welfare already is one of the nation's top programs.
Mary Ellen Kondrat hopes to make it even better.
"KU is a first-class university, and the School of Social Welfare is a world-class department," Kondrat said during a recent interview.
"My predecessor did a beautiful job," she said. "The fact that Ann (Weick) held this position for 19 years says a lot. It's a tribute to her, her strength and all that she did for the department and for the university."
Weick retired earlier this summer.
The school's 31-member faculty, Kondrat said, is "well-known nationally."
In time, she would like to expand the school's "international dimension," promote more interdisciplinary research and encourage professors to keep doing what they've been doing.
"I hope we continue to teach and conduct research in ways that are meaningful to Kansas, the nation and the world and that will be recognized for making a difference," she said.
Kondrat admitted she hasn't had time to get her arms around the social services issues facing Kansas.
"I know this much: There's a strong mandate for the university to serve the needs of Kansans," she said. "And I know that's what social workers do."
Kondrat has a bachelor's degree in psychology from Marquette University, master's degrees in sociology and social work at the University of Wisconsin-Madison, where she also earned a doctorate in education.
After a teaching stint at Michigan State University, she spent 12 years at Ohio State University, where she served as associate dean and directed the master's level program within the social work department.
Kondrat was named dean of the Louisiana State University's School of Social Work in 2003.
While at LSU, Kondrat:
¢ Oversaw a major fundraising campaign.
¢ Increased minority enrollment in the master's level program.
¢ Revised the school's bylaws in ways that allowed a greater emphasis on fundraising.
¢ Expanded the school's research efforts.
"LSU is a strong university, and Louisiana is a state that's dealing with some very tough problems," Kondrat said. "Fifty-seven percent of the children in single-parent families live in poverty. That's a lot."
In the "2006 Kids Count Data Book," child well-being in Louisiana ranked 49th in the nation; only Mississippi fared worse. Kansas came in 12th.
Kondrat said LSU's School of Social Work played a major role in designing the state's anti-truancy program and in successfully reconnecting children in state custody with their families.
"It's been very challenging," she said.
Kondrat said she welcomes the opportunity to come to Kansas.
"I'm from the Midwest," she said. "I grew up in Wisconsin, I taught at Ohio State for a long, long time, and I've fallen in love with Kansas - Lawrence is a wonderful, beautiful place.
"In my travels, I've come to know a lot of people who either got their undergraduate degrees or their doctorates at KU - and they all say their big wish is to get back to Lawrence someday."
While at Ohio State, Kondrat developed and led a summer social work study-abroad program in South India.
"That's certainly a possibility here," she said, "but, first I have to take stock of what's already going on. I'm told we have some very strong programs in Costa Rica and Korea.
"Since coming here, I've been floored to discover that KU's study abroad programs are some of the best in the nation."
Kondrat is widowed. She has three children and three grandchildren.
About 550 students are enrolled in KU's School of Welfare.
Copyright 2018 The Lawrence Journal-World. All rights reserved. This material may not be published, broadcast, rewritten or redistributed. We strive to uphold our values for every story published.