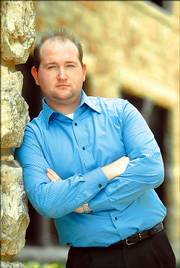 It's not uncommon for students to visit sandy beaches during their summer break.
Jonathan Kealing chose Des Moines, Iowa, as his summer destination.
Kealing, fall editor for the University Daily Kansan, opted for a copy-editing internship at a daily newspaper instead of a tan.
"He sees that as something he needs to do and get experience in," said Malcolm Gibson, adviser for the Kansan. "(Kealing) is very contemplative about a lot of things and what his career is going to be, what it should be and laying the proper foundation for that."
According to Gibson, Kealing didn't waste any time laying that foundation upon his arrival at KU.
"We all recognized very early on that he had a certain quality and demeanor that worked very well," Gibson said.
"He gets along very well in a world of people who are much older than he is, with much more experience. He can interact and converse with them in a way that he is sort of on an equal level. That's very unusual for a lot of younger people and students who are coming up through the process, and I think that's one of his key qualities that he can do that."
Originally from the Kansas City area, Kealing moved with his family to Arizona before returning to the Midwest and attending high school in St. Louis.
Kealing said he preferred the structure of KU's journalism school to that of other institutions. Most notably, he relishes in the opportunities afforded by the Kansan, where he has served in an array of capacities, most recently as spring editor.
Though he's become a die-hard journalist, Kealing didn't always see himself going down that path. In high school, he joined the newspaper through an elective course.
"I thought it would be something I would do in high school with no intention of pursuing it further," Kealing said. "I had an awesome, awesome high school adviser who I think really inspired most of her students, but especially me. I got the bug and came to KU and got involved in my first semester here and haven't looked back since."
Telling a story
His foray into the world of college journalism got off to an interesting start.
"The first article I ever wrote for the Kansan was for the 'Sex on the Hill' special section," Kealing said. "It talks about something that's always on the mind of college students, and it's probably one of the most widely picked-up issues of the paper. It's not tawdry, it's just entertaining."
Kealing also saw writing for the special issue as a fun way to get a feel for what college is and how the journalism process works through a not-so-serious product.
But as he's risen through the ranks of the Kansan, Kealing has found great importance in his craft.
"I'm a reporter first and foremost. I like knowing what's going on and telling other people," he said. "I think the power with journalism is that you have the power to share a story that otherwise would go untold, be it good or be it bad. You have the power to bring something to light for everyone to know about."
Kealing said he looks to employ this philosophy throughout the pages of this fall's Kansan.
"I think you will see a continued effort to stand up for the students and to hold administrators, student politicians and city officials accountable for what they do," he said. "It's important that students know what's going on in the university, and KU's got this bit of a culture of secrecy that I think is not appropriate, and the Kansan has a job to try and make the university as transparent as it should be and as it can be."
Hard work ahead
On a campus renowned for its journalism school, talent is never sparse. What separates Kealing from the countless students honing the same craft?
"Journalism is 80 percent effort and only 20 percent talent," he said. "You can teach talent, you can't teach effort. I will work myself virtually to death."
During his junior year, Kealing encountered his fair share of adversity in the newsroom, logging 60- and 70-hour weeks during the fall semester to compensate for a near-complete turnover in staff. This was in addition to being a full-time student.
During the spring semester, the day after the KU men's basketball team's Big XII championship, the Kansan lost Internet access. Still, the paper came out, but not without some creative thinking and extra work from Kealing.
"It was rough, but I don't know how not to do that. You work until the job is done, period," he said. "The thing about journalism is that it inspires you to get the job done. Every week, everyday, the paper has to come out, and you do what you have to do to make it happen."
Copyright 2018 The Lawrence Journal-World. All rights reserved. This material may not be published, broadcast, rewritten or redistributed. We strive to uphold our values for every story published.