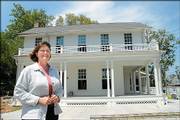 The long walkway into the Kansas University Department of Student Housing this summer stood covered by thick wood - keeping pedestrians safe from the construction clanging overhead.
This is the housing department Diana Robertson inherited when she took over as its interim director earlier this year - a department in the midst of reinventing itself, both internally and externally.
And since Robertson took over, she's had the power to lead the department's reinvention - from construction projects to staffing, from furnishing dorm rooms this fall to planning years into the future.
"I didn't feel like my hands were tied," Robertson said. "The transition has been easy."
For years, former director Ken Stoner led the department that housed a constantly growing student body and battled at times with a backlog of deferred maintenance.
Stoner departed last March for a new position at the University of Tennessee.
Robertson had served under Stoner as associate director in charge of student services. She held the position since 1999 and said the department she took over was left to her in great condition.
But with transition, as always, comes change. For Robertson and the housing department, the internal changes have already begun.
For example, Robertson said the department recently has constructed a sort of master plan, designed to help all areas of the department stay on the same page while striving toward common goals.
The plan, Robertson said, will help focus the housing department toward decisions made by staff and students, rather than having those decisions handed down from the top.
"I could just choose," she said of major housing decisions, such as which residence hall to renovate next. "But if I involve a lot of other people, we're going to make a better decision."
The transition - both internally and in the halls - will be pretty transparent to students, she said.
The Hashinger project will change much of student life on Daisy Hill. The new restaurant will give those cramming for tests or hanging with friends late a place to go, while a stage inside will add a musical or spoken-word soundtrack.
The construction on the hall is expected right up until students begin unpacking their things, she said.
Which means, she said, that the housing remodeling projects are finally back on schedule after running behind - sometimes well behind - for several months.
"It had been behind for quite a while," Robertson said. "It was a concern."
But now, she said she feels like everything is on track for the start of the new school year and beyond.
"We all know what direction we're rowing in," she said.
As for her, she said it was a condition of her contract that she be considered for the Housing Director position permanently. She's enjoyed her test drive, she said, and wants to keep it.
"I'd love to keep this office. If there is a more qualified person out there, I'd love to work for them" as well, she said.
But she can't worry about that now - the search likely won't start until this fall.
Now, she has residence halls to open and new students to introduce to campus life.
Complex directors have been training, while student leaders have been discussing possible changes this year.
"And before you know it," Robertson said, "the doors are open."
Copyright 2018 The Lawrence Journal-World. All rights reserved. This material may not be published, broadcast, rewritten or redistributed. We strive to uphold our values for every story published.