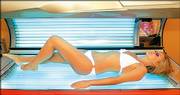 Tanning, manicures and - yikes - waxing can be messy and difficult to do at home. Lawrence salons keep busy during the school year with Kansas University students who are willing to shell out a few bucks for professional services.
Here's a look at different timesaving options you can try during your four years in Lawrence:
Tanning beds
Options
In regular-output tanning beds, sessions can last anywhere from five to 25 minutes, depending on the tanner's skin tone and present level of exposure to the sun. All tanning salons require first-time users to fill out a tanning-related questionnaire and keep a log of all subsequent sessions. The state-regulated questionnaire warns consumers against damage caused by not wearing protective eyewear, that tanning while taking birth control pills may cause burning or rashes, and that tanners face an increased risk of skin cancer later in life.
Many Lawrence salons also offer high-output tanning beds. One session in a high-output bed is equivalent to eight sessions in a conventional bed.
The Federal Drug Administration warns against overexposure to the sun, tanning beds and sun lamps. Both present in natural sunlight, UVB rays are associated with sunburn, and UVA rays are known as a deeper penetrating radiation.
"Some scientists have suggested recently that there may be an association between UVA radiation and malignant melanoma, the most serious type of skin cancer," the FDA cautions.
Reviews
"Sometimes it just feels nice," said Melinda Wyatt, KU senior and Shark's Surf Shop employee, of tanning. "In the winter when you don't get a lot of sun, it can get you down. Tanning gives you energy."
She tans more frequently in the summer, she says, "because you're wearing less."
Costs
Conventional tanning bed, single session: $7-$8
High-output tanning bed (levels vary), single session: $12-$30
Most Lawrence tanning salons offer tanning packages that offer quantity discounts.
Spray tan
Options
Most current spray tan technology is the same: chemical solutions charged with static electricity and sprayed on the body like spray paint. Some salons offer private, electrically powered booths for the chemical application, while others manually spray the chemical on a tanner's body.
Reviews
Nicky Androes, KU senior, splurged on a spray-tan experience once in her hometown of Wichita. She knew it was better for her skin than tanning in a bed and wanted to explore the option.
"It goes on like spray paint, and then you dry in front of a fan," she said. "I wouldn't go back because it wasn't worth it. It cost $25 and lasted a week."
She now tans regularly in conventional tanning beds at Shark's Surf Shop.
"I work and go to school, so I'm not able to lay out," she said.
Costs
Spray tan, first-session special: $15 (offered by many salons exclusively for spray tanning)
Spray tan, individual session: $25-$31
Waxing
Options
Salon waxing consists of heated wax applied to an area of unwanted hair, paper strips affixed to the pliable wax and a quick motion to pull it all off the skin. Stylists carefully shape eyebrows and bikini line hair into desired shapes, as well as removing all underarm or leg hair.
Reviews
"Waxing is messy if you do it yourself," said Courtney Baringer, a KU graduate student in architecture. "When you have it done they can do it really fast, and their products work better than ones you would use yourself."
She has her eyebrows waxed and plucked every six weeks at Z Cosmetology Academy, 2429 Iowa, where some salon services are available at discount prices.
"Bikini waxing isn't as bad as people think," said Lindsey Ramsey, a 2006 KU graduate. "It lasts a lot longer, and you don't get as many ingrown hairs as shaving." Ramsey tried bikini waxing at Salon Di Marco & Day Spa, 733 Mass., because she'd gotten a massage there before.
Costs
Eyebrows, basic wax: $5-$12
Bikini, basic wax: $25
Bikini, Brazilian: $35-45
Manicure/Pedicure
Options
Manicures can be as simple as nail trimming, filing and cleaning, or as elaborate as adding half-inch-long white French tips to the nail beds. Acrylic nail tips are applied gingerly by hand using a liquid and a powder. They make up the familiar-looking pink and white French tips and are the strongest of all fake nails.
Gel nails, which are also available at many salons, appear more natural than acrylic nails but typically aren't as durable.
Pedicures include toenail trimming, filing and cleaning as well, often beginning with a foot soak. Single-color nail polishes are available, as well as painted-on or acrylic white French tips. Mary Vo, a stylist at Regal Nails, 3300 Iowa, said it's not uncommon for customers to get acrylic tips on their toenails.
"Some people can't grow some toenails, because of impacting, but want them all to look the same," she said.
Spa pedicures add skin treatment and massaging to the mix, including the filing of rough skin and calluses around parts of the foot.
Reviews
"I get a pedicure at the beginning of every summer, to smooth things out," said Jenna Struck, a 2006 KU graduate.
"I usually do my nails myself because of health scares," she said, referring to recent news exposes questioning the cleanliness of some nail salons' tools. "If they don't clean it right, it freaks me out. I go to really nice places."
Costs
Manicure, basic nail treatment: $13-$18
Full set, acrylic nail tips: $23-$28
Pedicure, basic nail treatment: $23-$36
Spa pedicure: $34-$43
For a customer's individual needs or to explore varying prices and quality, Lawrence salon employees are happy to answer questions by phone. Price ranges here were collected by calls to randomly chosen salons throughout Lawrence.
Copyright 2018 The Lawrence Journal-World. All rights reserved. This material may not be published, broadcast, rewritten or redistributed. We strive to uphold our values for every story published.