Photo Gallery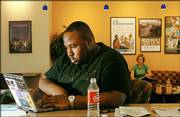 KU Edwards Campus
About 2,000 students attend Kansas University's Edwards Campus. But that's just the tip of the iceberg for what the campus could someday serve.
"The potential for growth is extraordinary here," said Bob Clark, the campus' vice chancellor.
The campus could triple in size - adding programs and services to Johnson County and northeast Kansas.
But it's already grown. In 1997, for example, the campus offered 10 programs. Now it offers more than 20.
The Edwards Campus, at 127th Street and Quivira Road in Overland Park, offers undergraduate and graduate programs.
"We continue to be excited about the growth of our undergraduate programs," Clark said.
The campus' students are primarily nontraditional. More than 90 percent work, and roughly three-quarters work full-time. About half of the student population is married, and many have children. The average age is 31.
The campus works in partnership with nearby Johnson County Community College.
"Clearly, the cooperation and collaboration of the college and the Edwards Campus enriches the whole economic and intellectual climate in the county," said Jeffrey Seybert, director of JCCC's Office of Institutional Research.
Administrators at both schools say the campuses have great economic impact from educating current residents and from attracting business to the area.
KU floated a property tax increase to pay for a $55 million expansion plan that would add a new library, more classrooms, faculty offices, research space and a school of applied science and technology to the campus. But that idea is on the back burner these days, Clark said.
"There's no update on that," he said. "We're reconsidering our options."
Clark said major expansion would likely require some influx of public funds, but administrators don't know yet what form that funding will take.
Growth of the campus in partnership with JCCC is an important issue for the county, region and state, Clark said.
Rep. Arlen Siegfreid, R-Olathe, said expanding the campus was good for Johnson County, but he's not a fan of using property taxes to do it.
As for other methods of gathering funds, Siegfreid said he was open to ideas.
"If it makes sense financially to do it, then we need to work toward a way of expanding that campus," he said.
The Edwards Campus in April welcomed the new Confucius Institute, a center started by a partnership between KU and China's Ministry of Education.
The institute, which opens this summer, will offer educational and cultural programs with a focus on China.
It will launch Chinese language classes for several Kansas high schools, as well as language programs for business people and the public. It will also offer cultural programming.
The campus also is adding a laboratory for students in the molecular bioscience program.
"It's really big news for the program," Clark said.
Previously, students had to use space at JCCC. The lab features a teaching lab, small research preparatory area and sterile culture room. It enables KU to expand laboratory courses, and students will have more access to lab space when not in class.
KU in 2004 changed its policy regarding nonresident tuition rates at the Edwards Campus because students were driving from Lawrence to Overland Park to avoid paying higher rates.
Enrollment dropped, but Clark said he anticipates a flattening out of enrollment in the fall and spring before enrollment numbers take an upswing.
Copyright 2018 The Lawrence Journal-World. All rights reserved. This material may not be published, broadcast, rewritten or redistributed. We strive to uphold our values for every story published.