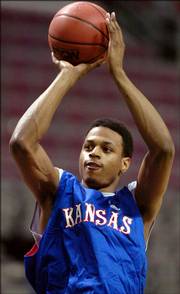 After a full year of playing "under the radar," Kansas University's men's basketball team will be in everybody's field of vision this season.
Unranked in the preseason and much of the regular season, the Jayhawks' raw 2005-06 team of freshmen and sophomores tied for the Big 12 Conference title and won the conference tournament before falling to Bradley in the first round of the NCAAs.
This year will be completely different attention-wise with the Brandon Rush, Julian Wright, Mario Chalmers-led Jayhawks garnering mention in most everybody's top five.
"Last year, being under the radar we played with basically no pressure, an attitude of, 'Nobody expects us to do this; lets have fun and do it.' We tried to build it that way," KU coach Bill Self said.
"This year, playing with a bull's-eye on the back forces you to play under pressure situations. They (KU players) need to operate under a little duress. They will operate under that in the NCAA Tournament. Having expectations, a bull's-eye, doesn't bother me at all."
Better equipped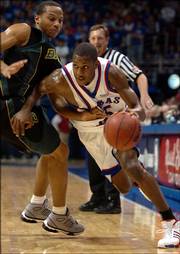 While the team goals remain the same - win the Big 12 title, conference tourney crown and ultimately the national championship - Self realizes this year's squad is more well equipped than last year's to claim national honors.
"We accomplished a lot of things last year, did a lot of good things. We didn't spoil anybody in the postseason," Self said. "Last year we entered the season hoping to be pretty good. This year I know we're going to be good with focus, effort, hard work.
"This returning group of guys and a couple additions can accomplish great things. It could be an awfully fun team to watch."
Still young in many respects - KU has no seniors on the roster - the Jayhawks are stacked with talent.
In fact, all five starters return from a 25-8 team, one that went 13-3 in the conference.
The leading returning scorer and rebounder is Rush, a 6-foot-6 sophomore who led KU in scoring (13.5) and rebounding (5.5) his rookie season.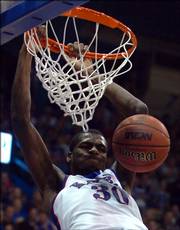 "He was the premier young guy through the course of the season," Self said of the Big 12 freshman of the year who was also voted KU's team MVP. "I think he's just scratching the surface of how good he can be. He improved through the course of the season - ballhandling, passing, shot selection, defense. Everything has improved so much. He could be a great, great player."
Rush, who hit 47.4 percent of his shots - including 50 of 106 threes (.472) - had such a good year he considered declaring for the NBA draft.
"I've not accomplished what I want to accomplish," Rush said. "I want to win a national championship before I go anywhere."
Self expects better ballhandling from Rush this season and a greater ability to attack the basket with improved ability to go to his left.
"When he's aggressive he's really good," Self said. "For him, he is just starting. He's on an upswing. In everybody's mind, there's still a lot of room for improvement in his game."
"I want to be improved on defense, shooting, everything," Rush indicated.
By the end of the season Rush faced some competition for league frosh of the year from teammate Chalmers, a 6-1 guard who averaged 11.5 points off 44.5 percent shooting. Chalmers made 48 of 128 threes for 37.5 percent.
Chalmers blossomed after Russell Robinson was moved to the point and figures to play two-guard exclusively this season with incoming freshman Sherron Collins, a 5-11 sparkplug from Chicago, joining Robinson as a lead guard.
Theft record-setter
Chalmers finished with a school- and Big 12 freshman-record 89 steals as a rookie.
"He gets 89 steals and didn't play as much early," Self said. "Mario is becoming a complete guard. Defensively, Mario wasn't good early. He's become a good defender, creating havoc, getting his hand on a lot of balls. Mario is a guy who has the confidence to go make plays. He has to be a player who goes and makes plays."
He finished the season with 127 assists against 93 turnovers.
"You see how he finished ... I don't think there was a better guard in our league," said Self, who understood why it took a while for the player to emerge.
"Mario grows up in Anchorage, Alaska. He comes in and we expect him the first day of practice to lead our team, make shots. He struggled the first four, five games - imagine that. He surpassed expectations as far as being clutch as a freshman, generating offense and defense, though I expected him be good player for us."
Wright, a 6-8 forward who figures to play more on the perimeter as his career progresses, averaged 8.5 points and 4.6 rebounds as a frosh. Wright hit 56.4 percent of his shots and had 42 blocks, second on the team to C.J. Giles' 48. His 31 steals were third best on the squad.
"Julian will never statistically lead the team in scoring over a season. That's not what he does. He is a playmaker who makes others better," Self said.
"I believe he was one of the most improved players in America the last couple months (of last season). He came a long way and a long way fast. His ability to see the game and get the ball to his teammates probably was better than I ever thought it could be early in his career. He's one of the biggest reasons our team got better (after a 3-4 start).
Wright - who Self said "has a fabulous personality" - became a fan favorite with his highlight-film dunks and no-look passes.
"Julian is a guy, ask me what he does best ... if it's Monday we'd say this, Tuesday that. He is a fabulous prospect," Self said. "There were times people in the first five to six rows had to keep their hands up. To see how far he has come ... he has a chance to be one of the great ones if he continues to work hard."
Robinson requisite rudder
While KU's freshmen had a big year, it was sophomore Robinson who earned the tag "the heart and soul of our team" according to Self.
The 6-1 New Yorker averaged 9.3 points off 37.1 percent shooting. He had a team-leading 152 assists against 73 turnovers with 3.1 rebounds per contest as well as a total of 76 steals.
"Russell plays to his strengths," Self said. "He is a guy who creates havoc on defense, is a good on-the-ball defender, loose-ball guy and forces help. He's not worried about making shots, though he's shooting it better."
Robinson blossomed when Self moved him from two-guard to the point over Christmas break.
"I think Russell felt since we were playing Mario and 'Hawk' (Jeff Hawkins) at point he had to shoot the ball to impact our team," Self said. "When we moved him he could pick spots with the ball in his hands, getting in the lane, creating havoc, leading our team. To think where he came from the end of his freshman year to now ... he's the heart and soul of Kansas."
KU's sophomore big men - Sasha Kaun, Darnell Jackson and Giles - were the team's fifth through seventh leading scorers at 8.2, 6.3 and 6.2 ppg, respectively. They grabbed 5.3, 4.9 and 4.8 boards, respectively, per contest.
Kaun, 6-11 and 250 pounds, hit 56.2 percent of his shots, but just 53.5 percent from the free-throw line.
"Sasha got off to a great start," Self said. "He didn't score as many points as he hoped late, yet he has set the stage for an unbelievable future. He has to play with unbelievable energy and alertness."
The 6-10 Giles showed incredible athletic ability with his team-leading block total and also canned 50.6 percent of his shots while logging 16.9 minutes per game.
"C.J. has as much talent as anybody," Self said. "When C.J. gets comfortable, we can do so many things athletically. What people don't realize is he did not start playing basketball until he was a junior in high school. The sky is the limit as to what he can do in the future."
Jackson provided some bulk in the middle, using his 6-8, 240-pound frame to his advantage while pulling down boards. Jackson also hit 50.5 percent of his offerings.
"To think of where Darnell was and is now ... I could not be more proud of him," Self said. "He started playing ball in the ninth grade, C.J. 11th. Sasha didn't see a ball until he was a sophomore. They all are going to continue to improve and we need them to be a presence for us."
Highly acclaimed freshman Darrell Arthur, a 6-9, 220-pound forward from Dallas, will be ready to step in for major minutes next to members of the junior-laden inside group.
KU also has a pair of junior reserve guards returning. Jeremy Case, 6-1 from McAlester, Okla., averaged 2.5 points in 24 games during his soph campaign. Case, who is known for his deadly three-point shooting in practice, has yet to take it into games. He hit 14 of 42 threes for 33.3 percent.
"I personally think it's going in every time it leaves his hand," Self said of Case's shot.
Rodrick Stewart, an athletic 6-4 USC transfer from Seattle, became eligible at semester and never really threatened to enter the rotation. He scored 10 points in 14 games.
On ground floor
"Rod will be starting from the ground floor like everyone else," Self said. "He has the potential to be a good defender."
Matt Kleinmann, KU's 6-10 sophomore walk-on big man from Overland Park, hit seven of 11 shots in 16 games.
KU also is bringing in a pair of Lawrence players - Brady Morningstar, a 6-4 freshman guard out of Free State High and New Hampton (N.H.) Prep School, and sophomore walk-on Brennan Bechard, a 6-0 guard from Lawrence High and most recently Barton County Community College.
Copyright 2018 The Lawrence Journal-World. All rights reserved. This material may not be published, broadcast, rewritten or redistributed. We strive to uphold our values for every story published.