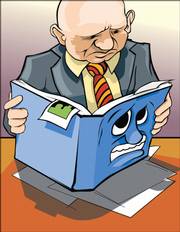 Be careful who you poke.
That's the new word of advice university career centers are doling out to students lately.
Facebook, an Internet database that allows college students to post photos and personal info, has become a virtual mecca for students' social lives. Through that site, students can send messages, exchange contact info and even "poke" someone they like.
Interpret that term however you like - Facebook doesn't offer a definition.
But what seems like a great technological advance in mingling has become a bit of a roadblock for some making the leap from carefree college student to company employee.
Some employers are viewing the profiles of potential employees before the first interview. That may surprise students because, in order to access Facebook accounts, you have to have an e-mail address ending in "edu."
David Gaston, director of the Kansas University Career Center, says that many companies have interns with college Web addresses, which makes accessing student accounts a cinch.
He advises students looking for jobs to watch what they post.
"If people can get in and see that type of information, and you're not portraying yourself well, then it's a lot harder for that employer to imagine you working well within their company," Gaston said.
He adds that though he doesn't personally know any student who's lost a job opportunity because of a Facebook profile, he's heard Facebook horror stories from other universities.
Caught drinking
One such story took place on the KU campus last spring. In March, about 20 students were implicated in a Facebook-related scandal involving underage drinking.
Patrick Griffith was one of them.
Griffith, a 19-year-old Kansas University sophomore, was living at Pearson Scholarship Hall, where alcohol is banned.
One Friday in February, he and a few friends piled into one of the hall's tiny rooms and had an impromptu party - alcohol and all. Someone snapped a few pictures, posted them on Facebook, and about a month later, the partygoers were busted.
"The fact that 21 people got in trouble, we were pretty proud of that," Griffith said.
Griffith was slapped with a $40 fine, which paid for an online course detailing the dangers of underage drinking. He also had to write a two-page online essay about the incident and give a presentation on the KU alcohol policy.
He says he was "shocked" that photos on Facebook were the only evidence needed for the Department of Student Housing to take disciplinary action.
Griffith says he's learned his lesson and that he doesn't think Facebook will cause him problems in the future.
"Definitely there's no photographing of drinking in student housing anymore, and if there is, it's not posted on the Internet," he said. "At least with my hall."
With Facebook posts, nothing is off-limits. Scan any student's personal photos - available at the click of a button - and you may find underage drinking, allusions to drug use, sexy snapshots or other embarrassing images.
Job prospects
Jennifer Jordan, director of KU Business Career Services, gives students a simple way to tell whether what they post could come back to haunt them.
"Well, basically one thing I tell them is, 'Would you be embarrassed if your mom looked at it?' Or 'If we pulled your Facebook profile up right here, right now, are there things that would be embarrassing to you? Is it how you would want a prospective employer to see your profile?'" Jordan asks.
She adds that Facebook is a hot topic among career service professionals. At a recent National Association of Colleges and Employers conference, full sessions were devoted to Facebook and other Web issues, Jordan says.
On the flip side of the Facebook coin, Gaston says that some students might want to think twice about working for a company that shows such an intense interest in its employees' personal lives.
If the student doesn't mind having a nosy employer, Gaston says, they should always remember that what they post and even who they poke could become the talk of the water cooler.
"We want to make sure they understand that although it may appear to be kind of a restricted area for information, anytime information goes on the Internet and it's out there, it's out there," Gaston said.
Copyright 2018 The Lawrence Journal-World. All rights reserved. This material may not be published, broadcast, rewritten or redistributed. We strive to uphold our values for every story published.