Photo Gallery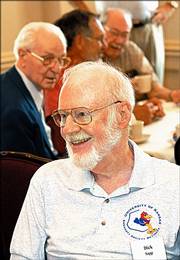 KU Endacott Society
Afternoon and evening lectures. A computer study group.
Members of the Endacott Society, a group consisting primarily of retired faculty from Kansas University, continue staying active through a variety of learning and social activities. Home to about 100 regular members, the society conducts most of its affairs at the Adams Alumni Center.
Tom Eblen, president of the society, took office July 1 and looks to maintain continuity within the group.
"I don't think we'll have any changes," he said. "The expectation is that we'll keep doing what we've been doing, which has been very successful."
While serving on KU's faculty, Eblen taught advanced reporting and editing courses in the journalism school.
Along with the lectures and computer group, Eblen said the society has seen great success in bridging the gap between those with different backgrounds.
"It's unusual to have this type of connection, and I think very rewarding for those of us who are heavily involved, to see people of all different disciplines come together and work together for the common good," he said.
"It's much more likely to get to know people now than in the past departmental settings."
Though Arnold Weiss taught Spanish for 30 years before retiring in 1986, he wasn't familiar with many of his fellow faculty. Admittedly not extremely social, he noted conversing with his peers in casual settings as an advantage afforded to him through the society.
"The camaraderie or just the chance to hang out with peers and friends is the best," Weiss said. "There were plenty of people whose names I'd seen in directories but had never met. It was great to meet them, and of course their spouses as well."
New officers
The 2006-2007 Endacott Society officers were elected at the annual meeting June 14. They are as follows:
President: Tom Eblen President-elect: Arnold Weiss Secretary: Audrey Kamb-Stoddard (continuing) Treasurer: Wiley Mitchell (continuing) Treasurer-elect: Edna Galle (to assume office during 2007)
In addition, participants check up on fellow members who have fallen ill.
"It's a great way to keep connected," Weiss said.
For many members, it's more than a case of just staying connected. Weiss said that with all of the activities, it's easy for members to become heavily involved.
"I keep myself perhaps busier than I need to be, but I'm lucky enough to be able to get around," he said. "I feel better doing that than just sitting around watching the TV. We're happy to stay as active as we are. It's certainly much better than the alternative."
Weiss' involvement includes leading the Drama Study Group, one which focuses on acting and skits, performing in a variety of venues.
"We do this for anyone who wants to hear us, but particularly for retirees," he said. This venture stems from Weiss' own interest in theater. Having acted in community theater, he puts his experience to work.
"I'm a literature person myself. It gives me something to keep me going in my own chosen field," he said. "After I've reached a point where there aren't too many parts available for people in my age bracket, I still can do some acting."
Copyright 2018 The Lawrence Journal-World. All rights reserved. This material may not be published, broadcast, rewritten or redistributed. We strive to uphold our values for every story published.