Lawrence residents once again will be seeing red - when it comes to fire trucks, that is.
Leaders with Lawrence-Douglas County Fire & Medical unveiled their new $695,000 fire truck Friday, and announced that the department is moving away from its unique light green trucks that have been a hallmark since the 1970s.
"Red is the traditional color, and we wanted to get back to it," said Chief Mark Bradford, who took over the top spot in the department in November after the retirement of Jim McSwain. "We would have firefighters from across the country come to Lawrence for various events, and they would see our green trucks and ask us why."
The answer is that in the 1970s city leaders had studies that showed light green actually was a more visible color to motorists than bright red.
Bradford said studies now show that color doesn't have much effect on visibility, which is determined more by the number and placement of lights, sirens and reflective striping.
Once it was determined that the trucks' color didn't make much difference in safety, Bradford said it became apparent that most of the department's firefighters were ready for a change.
Photo Gallery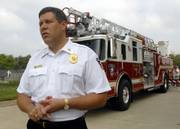 Fire trucks
"We all like the red," said Brandon Holloman, a paramedic/engineer. "We were kind of known nationwide in the fire industry for our green trucks, but this is what people think of when they think of a fire truck."
Bradford said the department wouldn't undertake the expense of repainting its fleet. Instead, all new trucks will be red.
The quint - which is a type of truck with a 500-gallon water tank and a 75-foot ladder - is the first new fire truck purchased by the city since 2001. It was needed after the city added Fire Station No. 5, near 19th and Iowa streets, to its ranks earlier this year.
The new truck, though, will be based at the downtown fire station at Eighth and Kentucky streets. That station's ladder truck - the vehicle that is able to reach some of the taller buildings in town - has been moved to station No. 5 so it's more centrally located and closer to tall buildings on the Kansas University campus.
In addition to the new color, the truck has several unique features. It will be the first truck in the fire department's fleet equipped with side air bags to protect the crew in case of a collision or rollover accident. The truck also has the ability to spray a foamlike substance, in addition to water, that does a better job of containing some types of fires.
The truck - which was manufactured by Appleton, Wis.-based Pierce - also has a polyplastic water tank, which eliminates the problem of water tanks deteriorating from rust.
Firefighters are receiving training on operating the new truck. It should be placed into service in two to three weeks.
Copyright 2018 The Lawrence Journal-World. All rights reserved. This material may not be published, broadcast, rewritten or redistributed. We strive to uphold our values for every story published.