Lawrence Memorial Hospital leaders have raised nearly 75 percent of their $8 million goal to finance a major expansion of the hospital.
Soon, fundraisers will begin casting a wider net.
"I really can't think of any corner of the community that we're not going to touch," said Kathy Clausing, the hospital's chief development officer.
The hospital plans to start a fundraising campaign in early September in Tonganoxie to be followed by a similar campaign in Eudora. Fundraisers are in the process of finishing a campaign in Baldwin.
Plus, Clausing plans visits to Lawrence school district buildings to talk with students and staff about the hospital's growth and its fundraising efforts. A team of volunteers also has begun a "community phase" of the campaign that is designed to contact 800 people in the community. That followed a phone campaign that reached 2,000 people.
Thus far, the campaign has raised $5.9 million. Reaching the $8 million goal is "critical," Clausing said, especially now that the hospital has committed to more than $40 million worth of bonds to fund the expansion project at 325 Maine.
The expansion will include a new emergency room, additional private patient rooms, an increase in the number of birthing rooms, improvements to the intensive care unit and major upgrades to the hospital's surgery suites.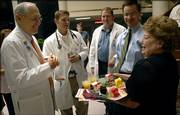 The conversion of the hospital's remaining semiprivate rooms into fully private rooms will be a major benefit, hospital staff members said Thursday.
"I think the patient rooms are going to be great," said Doug Riley, a respiratory therapist at LMH. "The patients are going to love it. When you're sick, you don't want to have to worry about having someone else in a bed next to you."
Some staff members said plans for the expansion already were having positive effects at the hospital. Dr. Marc Scarbrough, who joined the hospital's staff in July, said the fact that LMH was looking to make major improvements was a significant factor in his decision to join the hospital.
Clausing said she also knew of at least one surgeon who had agreed to join a local practice because the hospital is planning to build state-of-the-art surgery suites.
"It already has become a good recruiting tool, and our ability to recruit good people is very important," Clausing said.
Construction on the first phase of the expansion is expected to begin this fall. Hospital leaders have said the expansion will take approximately three years.
Clausing said she hopes to have the fundraising campaign completed by the end of this year, although donors are being allowed to fulfill their pledges over a five-year period.
Copyright 2018 The Lawrence Journal-World. All rights reserved. This material may not be published, broadcast, rewritten or redistributed. We strive to uphold our values for every story published.