-->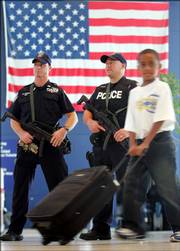 London — U.S. airport security will be even stiffer today as British security forces continue to hunt for suspects in an alleged terrorist plot to blow up as many as 10 transatlantic jetliners in flight between Great Britain and the United States.
Airline passengers at all major U.S. airports will pass through double screening starting today, first at the security checkpoint and again at the boarding gate, to make sure they're not carrying liquids onto planes. U.S. authorities banned airline passengers from bringing liquids or gels onto airliners Thursday after British authorities arrested 24 men suspected of involvement in the terrorist plot.
The suspects were British citizens, mostly of Pakistani descent. Though British officials expressed confidence that the key players in the plot were in custody, they said more suspects could be at large.
British and U.S. officials said the suspects were aiming to smuggle liquid explosives, timers and detonators onto flights in carry-on luggage. They could assemble bombs from those parts in flight.
Homeland Security Secretary Michael Chertoff said the plotters had "accumulated and assembled the capabilities" to carry out a mission that was in "the final stages of planning before execution."
Chertoff described the plot as "about as sophisticated as anything we've seen in recent years as far as terrorism is concerned. This was not a situation with a handful of people sitting around dreaming about terrorist plots."
Chertoff said the plot had all the earmarks of al-Qaida: "It was sophisticated, it had a lot of members and it was international in scope. It was, in some respects, suggestive of an al-Qaida plot."
However, both Chertoff and FBI Director Robert Mueller declined to say with certainty whether the terrorist organization was involved.
Chertoff also warned that there was "sufficient uncertainty about whether : the British have scooped everybody up."
"It doesn't mean we know for a fact there are people out there who are still active, but as anybody who has been involved in these investigations knows, we're going to learn more things and the British are going to learn more things in the next hours and days," he said. "And given the amount of planning and effort that was put into this plot, I think it would be a little bit risky to assume that everything is shut down and the threat has gone away."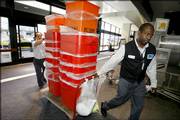 Attacks over Atlantic
British Home Secretary John Reid said the terror threat to the public was the biggest that Britain had ever faced. Police said the alleged plot had a global dimension and security services were cooperating with foreign counterparts.
U.S. and United Kingdom officials declined to reveal publicly the dates, times or destinations of the flights allegedly targeted, though officials privately identified the targets as United, Continental and American Airlines nonstop flights from England. British Airways also may have been targeted.
A senior U.S. official, however, speaking only on the condition of anonymity because the information is part of a law enforcement investigation, said the plotters were planning to blow up planes headed from London to Boston, Chicago, Los Angeles, Miami, New York, Washington and possibly other cities. The official said the flights appeared to have been chosen because the destinations are popular, the flights were expected to be full and they were leaving within 60 to 90 minutes of one another, which would have allowed the terrorists to detonate their bombs over the Atlantic simultaneously.
Another U.S. official familiar with the plot, speaking on condition of anonymity because British authorities were handling the information, said it was conceivable that the suspects could have "launched something within a month."
That would be within range of the fifth anniversary of the Sept. 11, 2001, attacks, which killed nearly 3,000 people when terrorists hijacked domestic jetliners and crashed them into the World Trade Center, the Pentagon and a field in Pennsylvania.
On the scale of 9-11
6News anchor Deanna Richards reports on the situation at KCI.
If the foiled plot had been successful, it could have rivaled 9-11 in scale. Typically, airlines use jumbo jets on international flights, such as the Boeing 747, which seats about 416 passengers, and the Airbus 310, which holds more than 370 passengers.
"If they managed to pull this off, it would have been spectacular," said Peter Lang, former head of the Middle East intelligence section at the Defense Intelligence Agency. "They would have killed several thousand people."
President Bush, traveling from his Texas ranch to Green Bay, Wis., said the foiled plot serves as a stark reminder that the United States "is at war with Islamic fascists who will use any means to destroy those of us who love freedom."
He said America was safer since the 9-11 attacks, but added, "Obviously, we're still not completely safe, because there are people that still plot and people who want to harm us for what we believe in."
Tips for travelers
If you're going through airport security, the new terror alert announced Thursday means tighter checks and probably longer delays. The Transportation Security Administration issued new guidelines for carry-on luggage: No liquids, gels, beverages or hand creams are allowed. Exceptions have been made for breast milk, baby formula or juice, prescription medicine with the owner's name attached, insulin and other essential medicines. TSA recommends that passengers show up at least two hours ahead of flight departure times, pack clutter free, work with the agents and be patient. Contrary to some reports, passengers can bring aboard laptop computers, cell phones and other electronic items. If you bring a prohibited item to a checkpoint, you'll be asked to discard it or you could be civilly or criminally prosecuted. For the complete list of what's allowed, go to: www.tsa.gov/assets/doc/Permitted_Prohibited_Facts.doc For a Q&A; on the new guidelines: www.tsa.gov/press/where_we_stand/security_measures.shtm Source: Transportation Security Administration Web site (www.tsa.gov)
Copyright 2017 The Lawrence Journal-World. All rights reserved. This material may not be published, broadcast, rewritten or redistributed. We strive to uphold our values for every story published.