Fighting a fire in the car bay of Automotive Perfection in Perry last month should have been routine.
"That fire should have taken 10 firefighters a couple of hours," said David Warriner, City of Perry fire chief. "It wouldn't have been an issue."
But the temperatures that day climbed to 100 degrees and beyond. The heat of the day, coupled with the flames, beat firefighters down in minutes.
In the end, dozens of firefighters from 10 local departments responded, eventually saving a nearby building but using far more manpower than expected.
"You get weather extremes. They are going to cause you problems," Warriner said. "We end up dealing with it the best we can."
When summer days run dry and hot for weeks at a time, fighting fires becomes more and more difficult for rural and volunteer fire departments here in Douglas County and throughout the region.
And in dealing with it, many rural departments have to use mutual aid to help deliver water - and rested firefighters - when battling a blaze.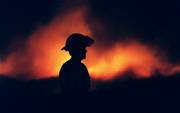 "You have to rely on mutual aid to relieve those firefighters that need to be relieved," said Shane Pearson, vice president of the Kansas State Firefighters Assn.
Mutual aid - sending several smaller departments to help battle a larger fire typically in a more rural area - happens year-round, Pearson said, but when the weather hits hot and cold extremes, it becomes the rule rather than the exception.
The system works like this: When dispatchers at the Douglas County Emergency Communication Center get word of a structure fire in the county, the computer system tells dispatchers which departments to call, said Marjorie Hedden, emergency communications supervisor.
Hedden said if volunteers aren't showing up to a structure fire fast enough - or if the fire is burning elsewhere, such as a grass fire - firefighters on the scene can have other departments paged.
"That's when they tell us who to send," Hedden said.
Departments in neighboring counties can also use the system if they need help with a fire - the car bay fire in Perry last month, for example.
Lawrence-Douglas County Fire Chief Mark Bradford said even when the firefighter's conditioning is perfect - meaning well-hydrated and in good physical shape - extreme heat wreaks havoc inside full "bunker gear" when standing next to rising flames.
In those conditions, smaller departments often struggle.
Bradford said the Lawrence-Douglas County department doesn't have a mutual aid agreement in place with any surrounding departments, but said firefighters will go if requested.
When fire breaks out during the heat of the day, those full-time firefighters from neighboring departments often become more necessary. Bradford explained the problem as "population cycles," where those volunteering to fight fires in bedroom communities are at work in places such as Lawrence and Kansas City when daytime fires break out.
The problem has grown in the past 15 years, Pearson said.
"Now, they're working in a bigger city, away from home," he said.
To get first responders to dry summer fires sooner, Pearson said many Kansas departments are evolving into combination departments, employing some full-time firefighters during the day coupled with volunteers at night.
Lt. Mike Smasal from the Wakarusa Township Fire Dept. explains what it's like to battle fire in the heat of the summer, how long it takes to recover and how the heat affects him at the end of the day.
Wakarusa Township Fire Department has for years employed round-the-clock staff to help supplement its 20-plus volunteers.
"It's a great advantage whether it's summer time or not," Chief Chris Moore said. "In the summer, it's a little bit more of an issue."
Even with first responders on the scene, firefighters can still struggle with the effects of a long drought.
When the first engine arrived at a fully ablaze home in Clinton Township earlier this week, the water on hand quickly ran out.
-->
The first blast knocked the flames down after the fire, Clinton Township Chief Dan Hardtarfer, but then firefighters began searching for nearby cleanouts - their only steady water source in the country - before mutual aid tankers from other departments arrived.
In the meantime, the fire raged on inside the home.
"Anytime you fight fire in the county, and you don't have hydrants, it's a problem," Hardtarfer said.
But recently, the Douglas County Fire Chiefs Assn. experimented with a tanker dispatch system, where every fire department in the county would automatically send a tanker to the scene of a structure fire, Moore said.
Moore said there are about 25,000 gallons of water sitting in rural Douglas County tankers - enough to tackle most kinds of fires, if crews arrive on time. County dispatch hasn't put the system into place yet, but in at least two recent fires - including the Clinton Township fire - everyone sent a tanker, keeping fires from spreading.
"That's the game plan," Moore said.
Copyright 2018 The Lawrence Journal-World. All rights reserved. This material may not be published, broadcast, rewritten or redistributed. We strive to uphold our values for every story published.