Neither resident was home Wednesday morning when a fire started in a two-story rental home four miles south of Lawrence.
Wakarusa Township firefighters received the call at 9:37 a.m. for the home in the 900 section of East 1500 Road, on the George Dairy and Farm.
"We found nobody. We had reports early on that nobody was in the house, confirmed by telephone and our own search," said John Mathis, assistant fire chief for Wakarusa Township.
Eugene George, owner of the dairy and the property, said the rental home's occupants - one a part-time employee of his - for now will live with family members, who live in the area.
The home's two occupants declined financial assistance Wednesday from the American Red Cross, and the residents estimated they lost $5,000 in personal property, Mathis said.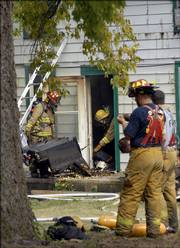 Mathis said a state fire investigator Wednesday afternoon determined the fire's cause was electrical. He also said an overall damage estimate to the house, which is uninhabitable for now, was unavailable.
George said he would wait to hear from his insurance company and that it was too early to tell what he will do with the damaged house, which was built in the 1920s.
The flames started in the home's lower level, which sustained the most damage. Heat and smoke also damaged part of the second story.
Mathis said first-response, volunteer units called for help early.
Because fewer volunteers are available during the day for the township fire departments, they needed the extra bodies to fight the fire in waves, especially because of the heat and humidity, he said.
Thirty-four firefighters from Eudora city and township, Palmyra, Kanwaka, Willow Springs, Baldwin, Lecompton and Lawrence-Douglas County Fire & Medical responded.
Copyright 2017 The Lawrence Journal-World. All rights reserved. This material may not be published, broadcast, rewritten or redistributed. We strive to uphold our values for every story published.