For Sarah Heschmeyer, this winning thing is becoming a habit.
"My sister's getting mad at me," she said. "She wants to win it."
Heschmeyer, a Douglas County 4-H member, for the fourth year in a row won a Grand Champion Heritage Arts award at the Douglas County Fair on Sunday. The award includes sewing, patchwork, knitting and other crafts, and Heschmeyer won this year for a knitted Irish fisherman's sweater.
The day celebrated the fair's finale, with dozens of awards handed out and prized livestock auctioned off.
At the livestock auction, 4-H members sold more than 120 animals, with sales totaling $119,042.
The Grand Champion Steer award was given to Lecompton 4-H member Wyatt Schumann - who was also no stranger to winning.
Wyatt, 12, said that he had placed either first or second every year his family has entered a steer at the fair - this year winning for a Hereford-Angus named Juice.
J.B. Pearl purchased the 1,324-pound steer for $2,785.
"We've been really, really lucky," Wyatt said. "But it feels good."
Fair Board President Jim Gabriel said the turnout for this year's fair ran about average compared to previous years, even though temperatures were well above average for much of the fair's run over the past week.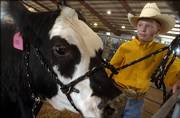 Some animal entries were down from past years - dairy cows and sheep, for example - while others such as beef cattle and pork were up.
"It's up and down," Gabriel said. "But we're holding steady with the number of animals here."
As for the fair as a whole, Gabriel said that, for the most part, things went well.
It was hot, to be sure. Except for a brief midweek respite, the sun baked the fairgrounds. Gabriel said that the more than 200 fair volunteers did whatever they could to beat the heat, from watering the roof of the community building with sprinklers to keeping big fans blowing nonstop.
He said people and animals alike kept their cool during the week.
"I think they knew we were doing all that we could," Gabriel said.
Copyright 2018 The Lawrence Journal-World. All rights reserved. This material may not be published, broadcast, rewritten or redistributed. We strive to uphold our values for every story published.