At least for a day, Andrew Grover ran track with guys and girls from Free State High School without wanting to leave them in his dust.
"It's different," said Grover, a Lawrence High School student, as he cooled down from the run. "This is more of a together thing, instead of the season where you're competing against one another."
Standing near the finish line of the Crosstown Unity Run on Saturday, Grover stood side by side with students and supporters from both city high schools as they raised collective funds for their track and cross country programs.
The run began at Free State and ended at Lawrence High School, leading runners of all ages through an urban path along city streets and through the Kansas University campus.
About 375 runners turned out for the 10K event, along with 2 x 5K relay. Between entrance fees and other support, organizers expected to raise thousands for both schools.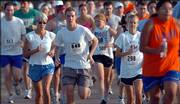 "This was better than last year," organizer Steve Riley said of the number of runners. "Better than any other year."
Runners from all over the Midwest and beyond showed up for the race, although Riley said the majority of runners were high school or college-age students - or high school cross country and track alumni - from the Lawrence area.
Along the run and back at the high schools, more than 100 volunteers tried to ease the heat of the day with water and cheers.
Families stood on street corners, urging young runners on.
"Lawrence really gets out and supports it," Riley said.
For the runners, the trek wasn't easy. Grover said that most cross country runs wind through grass and trails. Pounding the city streets and concrete leaves knees and legs sore.
Plus, most cross country runs are half as long - only 5K.
But at the end of the day, Grover said, the creeping heat and stiff concrete were all worth it, as the community came out to support runners at typically competitive high schools.
"It's great for our programs," Grover said. "This is where we get the money to buy our equipment."
Crosstown Unity Run winners
Men's overall winner: ¢ Kory Cool, 19, Manhattan
Women's overall winner: ¢ Kelly Renfro, 16, Lawrence
Men's masters winner: ¢ Jeff Behrens, 57, Gladstone, Mo.
Women's masters winner: ¢ Lori Lange, 48, Lawrence
Copyright 2018 The Lawrence Journal-World. All rights reserved. This material may not be published, broadcast, rewritten or redistributed. We strive to uphold our values for every story published.