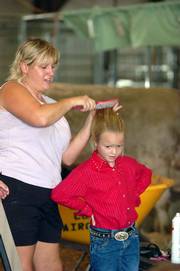 Spiffed up in a new cowboy hat, boots and bright blue jeans, Tucker Gabriel seemed nervous.
"A little," the 8-year-old Eudora boy admitted.
He spoke quietly to his cousin, 9-year-old Lauren Gabriel, as both prepared for their big event of the day: the Bucket Calf Show at the Douglas County Fair.
"It's fun because you have something to do over the summer," Lauren said as she got her calf, Gordie, ready for his debut on the calf version of a fashion runway.
A bucket calf is one that's been raised away from its mother. It's usually a family project, with the youngsters charged with feeding them by hand with a bottle or from a bucket.
Lauren had been raising Gordie for six months, and he had grown to a hefty 374 pounds.
"That's pretty big," she said.
The hardest part of raising a calf is the bath, she said: "A lot of them don't like water."
Tucker smiled when he explained what he liked about raising his calf, Abby.
"It's fun to feed them because they don't have a mom and they depend on us," he said. "She eats ground corn, oats, bean meal and cotton seed hulls."
Travis Neis, 8, Eudora, was getting his calf, Roscoe, ready for the judge.
Kids and Calves
Hear kids discuss their calves at the Bucket Calf Show at the Douglas County Fair. See audio slideshow »
"Same as Tucker," he said. "I like it because I get to take care of it."
A few minutes later, as their relatives watched from the sidelines, the 4-H'ers paraded their calves into the show ring in the Community Building at the fairgrounds.
Judge Art Johnson, Oskaloosa, walked around the ring, looking over each animal and seeing how the boys and girls handled them.
He stopped and chatted briefly with each of the 4-H'ers, asking them questions and giving them encouragement.
Photo Gallery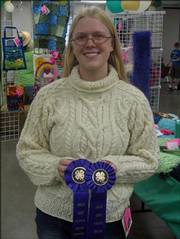 Douglas County Fair Grand Champions
The Grand Champions are the top ribbon winners in their categories at the Douglas County 4-H Fair.
About 30 entries were in the show, with the 4-H'ers ranging in age from 8 to 12.
Johnson has a lifetime of being around livestock and children; he retired in 1999 after 40 years as Jefferson County's extension agent.
"I enjoy coming back," he said.
The Bucket Calf Show is one of the best events at the fair, he said.
"For many youngsters, it's really the first time that they've showed at the fair," Johnson said. "And it's an important thing for the kids as well as the parents and, many times, grandparents."
They try to show the calf so it looks as good as it can, and they tell the judge what they're feeding it and about its health.
"Many of them are going to keep their calves and come back next year as yearling projects," Johnson said.
After the event, Tucker seemed pleased at his ribbon outcome as he led Abby back to her stall.
"I did good," he said a little later. "I got a blue."
Copyright 2018 The Lawrence Journal-World. All rights reserved. This material may not be published, broadcast, rewritten or redistributed. We strive to uphold our values for every story published.