As the U.S. Anti-Doping Agency, U.S. Olympic Committee and any number of investigators, medical personnel and others work to understand a test showing that elite sprinter Justin Gatlin had run with elevated levels of testosterone in his body, Lawrence chiropractor Michael Stuart knows one thing.
Stuart simply adjusted the sprinter's back, not anything in his bloodstream.
"It's odd," said Stuart, who worked on Gatlin at the sprinter's request during the Kansas Relays in April, when the sample for the positive drug test was taken. "Whether they'll contact me, I don't know. They're looking to see what he did all day long. It's crazy.
"It's all of a sudden: He's here at the Relays, then he's setting the world record, and then, oh my gosh, he's testing positive."
Stuart said he saw nothing unusual going on during the meet, when he simply made mid- and lower-back adjustments on Gatlin after the sprinter received a massage from his regular masseuse under the scoreboard at Memorial Stadium.
Stuart had been offering chiropractic services at the Relays at the request of Tim Weaver, meet director, and had been working with Maurice Green and several other world-class hurdlers and track superstars.
Stuart still treasures the picture of himself and Gatlin that was taken on the track during the Relays. It hangs on his office wall in west Lawrence.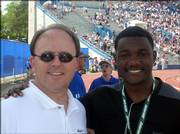 But he doesn't smile as much now.
"I just shake my head, you know?" Stuart said. "Here I had the opportunity to work on, basically, one of the fastest men in the world. It's like, now, it almost takes the spark out of it. But I did three days with Maurice and his team, and there's a quality person there - they're doing it the right way."
On Thursday, the U.S. Olympic Committee announced that it was banning Gatlin's coach, Trevor Graham, from the organization's training centers. And if Gatlin's positive drug test is confirmed, the sprinter would face a lifetime ban from the sport.
That Stuart had an unwitting and close view of an unfolding scandal left him wondering this week: Just what did happen at the meet? And what will become of one of his most prominent one-time patients?
"It's just a sad situation," Stuart said. "When I first heard about it I was like, 'Oh, man. This can't be.' It's just very disenchanting."
Copyright 2018 The Lawrence Journal-World. All rights reserved. This material may not be published, broadcast, rewritten or redistributed. We strive to uphold our values for every story published.