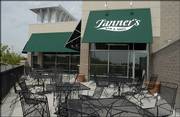 With two outs already in the book, a Lawrence sports bar is calling in a pinch hitter with big-game experience.
Brad Ziegler and his business partner, Tim Stultz, this week purchased Tanner's Bar & Grill at 1540 Wakarusa Drive. They already have started stripping walls, cleaning out the kitchen and ordering in plasma screen TVs - $50,000 worth - to give the place a new feel after two previous ownership groups took a shot.
The new owners haven't settled on a name yet, but a sign in the window suggests that the format of Zig & Mac's - a sports bar and grill the partnership opened in 2003 in Shawnee - is on the way.
"It'll be an upscale sports bar and grill," said Ziegler, who founded and later shed his interests in two other food-and-drink establishments on Wakarusa: JB Stout's Bar & Grill and Marisco's Pasta & Seafood. "Just good food, good service and a neighborhood bar-and-grill atmosphere."
Ziegler is owner of three bars in Lawrence: Louise's Downtown, Louise's West and the Eighth Street Tap Room.
Ziegler had discussed buying the Tanner's in Lawrence last year, when owner Tom Hayes was leaving town for a football coaching job at Stanford. Ziegler watched as another group bought the place that time, but neither he nor Stultz - who owns Highland Construction in Lawrence - could pass it up this time around.
They've started hiring some of the 60 staff members that they'll need to get the place up and running. The target opening is Sept. 1.
Copyright 2018 The Lawrence Journal-World. All rights reserved. This material may not be published, broadcast, rewritten or redistributed. We strive to uphold our values for every story published.