The predictions were right: Voter turnout was low Tuesday as voters chose a series of candidates in primary races.
Only 9,065 of 74,021 registered Douglas County voters - or 12.25 percent - bothered to cast ballots, according to County Clerk Jamie Shew. Election officials said if that wasn't a record low, it was close.
When polls opened at 7 a.m., one voter was ready to go at the polling station at Plymouth Congregational Church, 925 Vt. But the second voter didn't show up until about two hours later, poll workers said. And by 6 p.m. - just an hour before voting stopped - a grand total of 12 people had cast ballots there, including one provisional ballot, they said.
"I've never seen it this slow before," said James Dunn, the supervising judge who has been a poll worker for years.
Several of those who voted at the church said they were especially interested in the Kansas State Board of Education races, said Marci Francisco, a poll worker at Plymouth who also is a state senator.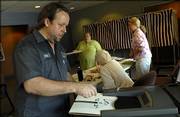 Turnout was low throughout Kansas even though voters were choosing a Republican nominee for the gubernatorial race and selecting candidates for Congress, insurance commissioner, secretary of state and the state school board.
Several Lawrence voters attributed the poor turnout to a series of lackluster campaigns and voter apathy.
"I have so many friends who say the primaries don't matter, but I sure think they do," said Daisy Hemming, who was the 20th voter at 9:30 a.m. at the Pinckney School polling station.
By 6:30 p.m., 65 people had voted at Trinity Lutheran Church, 1245 N.H. That was a poor showing, longtime poll workers said.
"There was a bad day when it snowed during a primary in 1989 and we had more voters than this," said poll worker Janet Elston, who has been working at the same precinct for years.
That turnout was better than at some locations. At the South Park Recreation Center polling station, only 10 voters had been by at 9 a.m.
Jerry Wells - a former Republican Douglas County district attorney who was voting at First Southern Baptist Church in west Lawrence - blamed lackluster campaigns, especially in the Republican gubernatorial primary.
"I think (Gov. Kathleen) Sebelius is just overwhelming everyone else right now," Wells said. "The general election will draw more interest, but right now there has been no buzz factor."
No problems were reported with the county's new voting machines.
Election 2006 - Kansas races
More on the 2006 Elections in Kansas
Video
Stories
Primary election results
Campaign finance reports
Copyright 2018 The Lawrence Journal-World. All rights reserved. This material may not be published, broadcast, rewritten or redistributed. We strive to uphold our values for every story published.