At 7:30 a.m. Tuesday, an optimistic Eric Carter called Bob Tomlinson, one of Kansas Insurance Commissioner Sandy Praeger's top aides.
"He wanted to make sure we had his cell phone number so we could call to concede," Praeger said, chatting Tuesday night with supporters at her campaign's rally at Mass. Street Deli, 941 Mass.
Carter's concern proved premature.
Praeger, a moderate Republican, took an early lead and - despite predictions that Carter, an unabashed conservative, would benefit from low voter turnout - won the GOP primary by an 18-point margin, outpolling her rival by about 35,000 votes.
But Praeger, who lives in Lawrence, was in no mood to gloat.
"It's been a grueling campaign," she said. "I brought two speeches with me tonight. I hoped I wouldn't have to read the second one."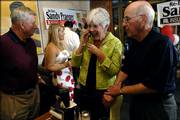 Throughout the campaign, Carter, 34, a two-term Kansas House member, accused Praeger of stifling insurance industry competition, backing costly mandates and being more Democratic than Republican.
"It got to be very negative," Praeger said. "There were times I felt like all we were doing was responding to his misinformation - and then, after that didn't work, he started focusing on social issues that had nothing to do with insurance."
Praeger, 61, supports abortion rights.
Last week, Burdett Loomis, a political science professor at Kansas University, said the Praeger-Carter race was too close to call.
In recent years, low voter turnouts have benefited conservative candidates.
Loomis called Praeger's victory "fascinating," noting the same voters who backed Praeger and incumbent Secretary of State Ron Thornburgh, another moderate, also turned out for gubernatorial candidates Jim Barnett and Ken Canfield, both conservatives.
"It's interesting," Loomis said. "Robin Jennison is the moderate in the (gubernatorial) race and he's bringing up the rear - and then here are Thornburgh and Praeger, kicking butt."
Carter downplayed the significance of Praeger's victory.
Election 2006 - Kansas races
More on the 2006 Elections in Kansas
Video
Stories
Primary election results
Campaign finance reports
"I don't think this campaign reflected the division within the party," he said. "It will help the party pull together. I was definitely focused on issues. And her (Praeger's) campaign was directed a little more at me personally. It may be that that won out."
Carter's loss came as no surprise to Chapman Rackaway, an assistant professor of political science at Fort Hays State University.
"I would have been shocked if he'd won," Rackaway said. "He did not have much of a campaign out here. He didn't have much name recognition - very few yard signs. Everything you see is 'Praeger.'"
In a recent interview, Carter promised to de-regulate much of the insurance industry in an effort to spur competition.
He hinted that Blue Cross Blue Shield of Kansas had cornered too much of the state market.
Carter said he opposed a 2001 law that required health insurers to cover mental and physical illness equally.
While in the Kansas Senate, Praeger championed mental health parity.
Praeger accused Carter of pandering to voters' fears. Mental health parity's effect on premiums, she said, was minimal. Blue Cross Blue Shield of Kansas had earned its share of the market, she said, and there is hardly a shortage of insurance companies wanting to do business in Kansas.
Praeger's campaign had been endorsed by former U.S. Sens. Bob Dole and Nancy Kassebaum Baker and by former Gov. Bill Graves.
Former Kansas Atty. Gen. Bob Stephan is Praeger's campaign chairman.
Stephan was no mood to bury the hatchet Tuesday.
"I ran in four campaigns, and I was never as angry as I was in this one," he said. "Sandy is a very decent person and, time after time, she was pilloried with statements that had no relation to the truth."
In the general election, Praeger will face Democrat Bonnie Sharp, of Kansas City, Kan., and Libertarian Patrick Wilbur, of Lawrence.
Copyright 2018 The Lawrence Journal-World. All rights reserved. This material may not be published, broadcast, rewritten or redistributed. We strive to uphold our values for every story published.