At 9:30 a.m. Wednesday, the gas gauge on Marty Jo Brave Bull's pickup truck was on empty. She didn't have the money to fill it up.
So she pulled into Quik Cash, a storefront at 1401 W. Sixth St., walked up to a window inside and said, "I need to make a loan."
It's a scene that plays out daily in Lawrence and across the state, as a growing number of "payday lenders" set up shop promising quick, short-term loans to get people like Brave Bull, 45, through to the next paycheck.
"That option is the bottom," she said. "It's basically my last straw."
Critics of the payday-lending business say the fees it charges are unreasonably high. They say it exploits people who already are in financial trouble, putting them on a treadmill of debt that prevents them from resolving the issues that got them there in the first place.
But those in the business say they're simply filling a need, and that most customers are moderate in their borrowing habits.
"We don't intend to offer these products in a parental kind of way," said Tom Linafelt, a spokesman for Overland Park-based QC Holdings, one of the 10 largest payday-loan companies in the country. "We trust our customers to make their own financial decisions. We don't want to baby-sit them. We want to serve their financial needs."
Downward spiral
Matt P., a 31-year-old Lawrence resident who spoke on condition that his last name not be used, is an example of what can go wrong with payday loans. He said he first took out one of the loans in 1999, when he borrowed $100 with $15 in interest tacked on.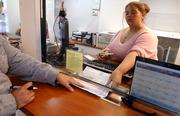 "The first time you go in one of these places, they're very nice," he said. "They explain to you how much you can take out. They hold the check for two weeks and then you're allowed to either have it taken out of your account or you pay them cash."
But soon he began taking out loans from one lender to pay off an existing loan at a different business.
"You take out one to pay off another. It just spirals downhill," he said. The cycle continued until he eventually reached $6,000 in outstanding payday loans from 17 different lenders in Kansas and Missouri - something he was able to pay off completely just earlier this year.
Matt said he got in trouble with "buydowns." Those are partial repayments that allow the loan to be extended. They're illegal in Kansas, but not in Missouri, where he often took his business.
"I'm living proof that if you need money, go look to your family. Look to people you know," Matt said. "That's not the place to go. ... They open up in places where people are very desperate. It is a quick fix for them. It was a quick fix for me."
Booming business
The payday-loan industry emerged in the 1990s as traditional lenders withdrew from the market for very small loans. Unlike other consumer loans, payday loans are made in single payments, and the loan is typically issued without a credit investigation. One study states the industry grew from virtually zero offices in 1990 to more than 10,000 in 1999. Today, there are about 22,000 nationwide, with 365 in Kansas.
More and more of the transactions are being done through the Internet. Companies from as far away as Europe- some of which are unlicensed - offer the loans to Kansans electronically through bank withdrawals.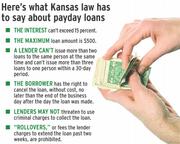 "It's always amazing to me that a person would give out that information blindly over the Internet, which I would encourage no person to do," said Kevin Glendening, administrator of the Kansas Uniform Consumer Credit Code.
Glendening said many payday lenders in Kansas are legitimate, but some are not. One of the most common abuses involves illegal fees, he said.
For example, a company operating through the Internet might repeatedly submit an electronic demand for payment on an account with no funds, using the threat of repeated "insufficient funds" bank charges as leverage to get the customer to take out more loans.
"That's just one example of the sort of egregious behavior we have come across," he said.
The nonprofit group Consumers Union says the rapid growth of the industry suggests that it's a low-risk, profitable business to be in- and that, given that, the high interest rates aren't justifiable.
After all, the $15 fee tacked on to a $100 loan amounts to a 391 percent annual percentage rate.
"Critics of the industry like to talk about the high APR. I think that's the biggest complaint that we hear over and over again," said Lyndsey Medsker, a spokeswoman for the Community Financial Services Assn., a Washington, D.C.-based trade group. "It's misleading, because yes, by law they have to disclose it as an APR, but it's a two-week loan."
'My godsend'
A 2001 study by Georgetown University- one often cited by Medsker's organization - suggests someone like Matt P. is an atypical customer of payday-loan shops.
Most of the people surveyed in the study were found to use the loans infrequently or moderately, but 22.5 percent said they had taken out 14 or more loans in the past year. Also, 16.5 percent had paid off one company with proceeds from another company, according to the study.
The "Heart of the Working Middle Class" is who typically uses the loans, according to documents from the trade group. All customers have checking accounts and all have steady incomes, which are required to take out a loan, the group says.
But those are just the official numbers. Brave Bull, for example, said she has a checking account on file with the local Quik Cash saying she earns good money working at a garage door company. It doesn't matter, she said, that the checks she floats to write the loan are on an account that is no longer open, and that she left the higher-paying job long ago.
She said she senses that the people at the business prefer to be paid in cash rather than having to run a check that might bounce. That, she said, would eliminate a regular customer.
On this day, Brave Bull forgot her checkbook, so she ended up not taking out the loan and instead borrowed some money from her ex-husband's mother. But, she said, she'll probably be back.
"This is my godsend sometimes," she said. "I go there because I feel comfortable with them. I'm not looking at suits. I'm not looking at uppity-ups."
Copyright 2018 The Lawrence Journal-World. All rights reserved. This material may not be published, broadcast, rewritten or redistributed. We strive to uphold our values for every story published.