On a cluttered desk in an office on the third floor of Kansas University's Summerfield Hall sits an old black-and-white photo of the Lone Ranger, his clear gaze peering ahead with his gun drawn, injustice in its sights.
Joe Reitz may not wear the iconic black mask, but he acknowledges that his focus on Mount Oread for the past 18 years hasn't been all that different from his childhood hero's.
In an academic world often celebrated for its liberal leanings, the business professor is a former Marine with a signed George W. Bush photo on his desk, a testament to his solid Republican politics and support for conservative causes.
But his lasting legacy will be rooted in a groundbreaking effort to educate his business students, and the companies they work for, in the importance of business ethics - a fledgling field upon his arrival on campus in 1988, but one that has grown in importance and prominence with each passing day of an Enron trial, Westar conviction or any number of "perp walks" for business executives and underlings alike.
"Sometimes I feel like the Lone Ranger," Reitz said last week. "Sometimes the questions you ask or the questions you give, people don't want to hear. But I try not to be swayed with what makes people comfortable. I strive to find the truth."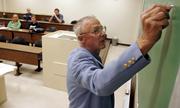 Reitz, Koch Industries faculty fellow, is retiring at the end of this academic year, closing out the formal portion of a career that started on the faculty at Indiana University and later shifted to Georgia Tech, the University of Florida and the University of Innsbruck in Austria.
But it is ending at KU, the school from which he graduated with honors back in 1960 and to which he returned as a business professor. He'd already become a champion of teaching business ethics, but his push soon picked up momentum.
He and Richard De George, a distinguished professor of philosophy, co-founded the International Center for Ethics in Business. Reitz already had convinced administrators to adopt a student honor system in 1990, one that would be revised 15 years later.
And for his class in business ethics, Reitz would make the objectives of his course clear in the course outline handed out to students on the first day of class:
A. To keep you out of prison;
B. To keep you from being fired for illegal/unethical behavior;
C. To keep you from embarrassing your family and friends;
D. To help you make a positive contribution to society;
E. To increase the chances that you will lead a good life.
If the class wasn't for them, he said, they could leave.
Plenty of students stayed, and Reitz fondly recalls the phone calls he had received from former students who offered thanks for his guidance as they were promoted - oftentimes for their steadfast adherence to ethical standards.
Now Reitz is leaving the classroom, at a university he dearly loves but fears has gone "adrift" because of a rising tide of attention and resources flowing into athletics. Without a sound vision for the purpose of the institution, he said, the campus is vulnerable to being pulled into undesirable directions.
Reitz promises to keep an eye on things. He'll be involved with KU Students for Life, for which he has served as faculty adviser for 18 years, and serve on the board of Midwest Student Ministries, another student organization.
"The legend of the Lone Ranger never dies," he said. "I'll be around."
Copyright 2018 The Lawrence Journal-World. All rights reserved. This material may not be published, broadcast, rewritten or redistributed. We strive to uphold our values for every story published.