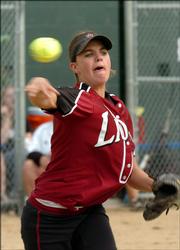 After starting the season 5-0, the Lawrence High softball squad has struggled of late.
The Lions entered Monday's doubleheader on a three-game losing streak and hoping for two victories. They got one.
Behind a strong pitching performance from junior ace Dequesne Sprow, LHS defeated Leavenworth, 8-3, in the opener, but the Lions' bats went quiet as they fell, 6-2, to Shawnee Mission West in the nightcap.
"'D' has been struggling a little bit lately, but I thought she came out today and pitched well enough for us to win two games," LHS coach Reenie Stogsdill said.
Sprow went the distance against Leavenworth, striking out 10 while giving up only two hits. She was only six outs away from a no-hitter, but that bid ended when Grace Runyan led off the top of the sixth with a double.
In the top of the third with the score tied at 1 and no outs,
Leavenworth had a runner on third and the top of its lineup coming up. Sprow struck out three straight to end the threat.
In the bottom of the third, LHS captured the momentum, scoring three runs to take a 4-1 lead.
"It's always good to get strikeouts," Sprow said. "But on offense, once somebody starts it, everybody keeps it going, and that's what we did."
The Lions added three more runs on back-to-back RBI singles by seniors Drew Huff and Erin Miller.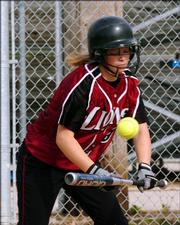 Sprow started at first base against SM West but didn't finish the first inning there. After pitcher Mariah Riling allowed four consecutive hits, Stogsdill didn't waste any time putting Sprow back on the mound.
"They were hitting Mariah hard, and I didn't want the game to get out of control," Stogsdill said. "'D' was on a role, so I thought I would bring her back in and see what she could do, and I thought she pitched pretty well."
Sprow retired her first four hitters before allowing two walks and back-to-back singles that put SM West up, 5-0, in the second. LHS tried to rally and put the tying run on deck in the bottom of the seventh, but the Lions fizzled.
LHS (6-4) will travel Thursday to Olathe North.
Copyright 2018 The Lawrence Journal-World. All rights reserved. This material may not be published, broadcast, rewritten or redistributed. We strive to uphold our values for every story published.