Toilets tacked on wooden dollies lined one side of Seventh Street, ready to roll through downtown Lawrence.
Oh, sure, toilets and belly dancers and people dressed in worm costumes, stacked up along Watson Park, all preparing for the sixth annual Earth Day Celebration.
"We thought it would catch more laughs," Katherine "KH" Harris said of the rolling toilet fleet. Harris is a manager at the Habitat for Humanity's ReStore, where people can buy cheap goods that contractors would typically throw out.
Earth Day 2006 was a strange scene, with Harris and her comrades sparking the festivities with the Habitat store's unused porcelain.
Harris boasted her troop was the best marching toilet brigade in the country.
"There's no one else. So we've got to be the best," she said.
The street here was lined with cars and trucks, ready to flow down Massachusetts Street toward a daylong fair at South Park. People trolled down the street in everything from monster diesel trucks to hybrid compacts.
Beth Shultz cruised in one of those, a Toyota Prius with plastic sunflowers taped all over it. The fake flowers, Shultz said, showed even the Chinese share in the majesty of the state bloom - mainly, because these were made there.
En masse, approximately 150 marchers tromped down Massachusetts, all touting groups as varied as local recyclers Cans for the Community to the finger-cymbal-ringing ladies from the Maya Zahira School of Belly Dance.
In South Park, cheering parade participants got down to more serious business.
Sure, there was music and food and a kind of general Saturday afternoon fun after the parade. Uncle Dirtytoes banged away on drums and raked a bow over fiddle strings, just after a 105.9 KLZR truck stopped blaring some Gwen Stefani song.
But Earth Day is, of course, about education first, and the South Park lawns were generally packed with groups peddling literature, handing out science lessons and demonstrating the function of eco-friendly equipment, such as rain barrels.
Kids swarmed the park, poking at every interactive display they could find.
In the middle of the "April Showers to Water Towers" series of interactive water pollution models, Terri Wright showed kids how pollution runoff works by spraying a water bottle on a plastic model countryside laced with food coloring meant to represent pesticides and insecticides.
Photo Gallery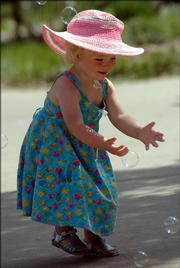 Earth Day
The idea, Wright said, was to make kids aware that chemicals dumped on land upstream eventually make their way into lakes and groundwater.
"And the kids like to make it rain," she said.
Stacey White walked her son around from display to display. Earlier, they marched down Massachusetts in frog outfits and a stroller dubbed the Frog Mobile.
Stuffed frog still firmly attached to her head, White said that for all of the planet's manmade environmental flaws, this day, Earth Day, stood out as a reason to look at the future in a positive light.
"It's too easy to be discouraged," White said. "We may not make everything perfect. But we need to strive."
Copyright 2018 The Lawrence Journal-World. All rights reserved. This material may not be published, broadcast, rewritten or redistributed. We strive to uphold our values for every story published.