They love the ground they walk on and the air they breathe, and Lawrence residents will prove that next week as they participate in numerous activities leading up to the April 22 Earth Day celebration.
This year's celebration will feature panel discussions, documentary films and other environmental programs before the climactic downtown parade and festival in South Park.
"It's amazing how the Lawrence community reacts to Earth Day," said Diana Sjogren, a waste reduction and recycling specialist for the City of Lawrence.
"There are many organizations coming out with a lot of great activities," she said.
Those activities start Tuesday and continue daily until April 22 with the Earth Day parade. The parade will begin at 11 a.m. at Seventh and Massachusetts streets and go south to South Park. As many as 200 floats and other entries - with an environmental theme - are expected, Sjogren said.
A variety of bands will perform during the afternoon at the park, where there will be children's games. An educational program and demonstration will include a water festival and related hands-on activities, Sjogren said.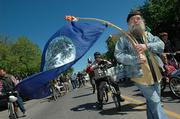 Rain barrels will be on display and for sale to the public. The 55-gallon barrels can be connected to the downspout of a house to collect rain water for use later.
"You can use that rain water when you have some plants to water or muddy boots to wash off," Sjogren said. "You can use it instead of tap water, which uses more energy and chemicals to create and bring into your house."
The barrels are being sold for the first time by the city for $20.
Kansas University students will join with the Lawrence community in celebrating Earth Day.
"I think there is a lot of interest around KU," said Emelia LaFortune, a senior from Tulsa, Okla., who is coordinator of KU Environs. "There are so many things going on right now. In the media, the environment is making headlines like never before. It's very interesting to see."
At 7 p.m. Tuesday, KU students and the Lawrence community can view the film, "The End of Suburbia: Oil Depletion and the Collapse of the American Dream." It will be shown in the Kansas Union's Woodruff Auditorium. The film brings together geographers, urban planners, climatologists and others to explore the consequences of oil usage.
Between 10 a.m. and 2 p.m. Wednesday, KU Recycling will haul all of the trash from Stauffer-Flint Hall, spread it on the lawn and separate it for recycling. This is a project the group periodically does on campus.
"It definitely gets a lot of people's attention," LaFortune said.
Films, discussions, displays slated
¢ Tuesday, 7 p.m., Lawrence Public Library, 707 Vt.: "Worried About Global Warming?" panel discussion on renewable energy sponsored by Oread Friends Meeting. Panelists will be Sarah Hill-Nelson, Bowersock Mills & Power Co.; Jennifer States, J.W. Prairie Wind Power; and Jason McLennan, BNIM Architects. ¢ Wednesday, noon, Ecumenical Christian Ministries, 1204 Oread Ave.: "Open Space in Douglas County" open forum. ¢ Wednesday, 7 p.m., $2, reservations suggested, Community Mercantile, 901 Iowa, showing of the film "Future of Food." ¢ April 20, 7 p.m., Lawrence Public Library, Erik Marcus, author of "Meat Market: Animals, Ethics and Money," will speak about the global threat of factory farms. ¢ April 21, 7 p.m., Plymouth Congregational Church, 925 Vt.: "The Future of Food, Farming and the Prairie," panelists Sen. Marci Francisco, D-Lawrence; Kelly Kindscher, of the Kansas BioIogical Survey; and Wes Jackson, of The Land Institute. ¢ April 22, 10 a.m. to noon, Prairie Park Nature Center, 2730 Harper: "Kansas Mushrooms," Sherry and Richard Kay. ¢ April 24, 7 p.m., $3, Liberty Hall, 642 Mass., showing of the documentary "Mad Cowboy," dealing with the threat of factory farms, mad cow disease and bird flu.
Copyright 2018 The Lawrence Journal-World. All rights reserved. This material may not be published, broadcast, rewritten or redistributed. We strive to uphold our values for every story published.