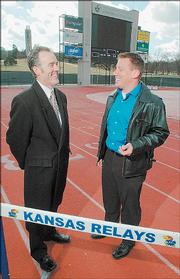 Signs lining the track at Memorial Stadium this weekend are the products of a new operation in town.
Sure, Star Signs & Graphics Inc. has been around Lawrence for years, manufacturing monument signs, pole signs, directional signs and dozens of other types, shapes and designs of signs for clients across the country, from the Kansas Speedway to casinos, shipping centers and parking garages seemingly everywhere else.
But the signs at the Kansas Relays are different. A new affiliate of Star Signs - known as Star Gameday - has spent the past three months actually soliciting sponsors to finance the signs and put them in from of more than 600 teams, more than 5,500 athletes and some 25,000 attendees.
The company isn't just making the signs. It's generating the business to make them and keeping a cut of the contracts.
"We're a team with the Relays," said Mike Vickers, co-owner and vice president of Star Gameday. "We're helping them get people in the stands, get them more notoriety and more money to get the big-name athletes in there, like Maurice Greene. That's what's going to get it on ESPN and get coverage for the sponsors. The sponsors will get a huge bang for their buck."
Vickers, long active in track and triathlon activities in Lawrence, sees the marketing and sponsorship business as a way to smooth out the highs and lows of economic swings in the sign business.
Star Signs has been growing, having departed its longtime space on East 23rd Street for a larger complex in east Lawrence, formerly home to Classic Eagle Distributing. Star Signs and its affiliated operations have about 50 employees.
The Star Gameday component, formed last year and co-owned by Shelley Rosdahl, is particularly poised for growth, Vickers said. Star Gameday already has signed the Shawnee Mission School District to a deal for exclusive rights to negotiate and create advertising placements at the district's high school athletics venues.
Last year, placing four signs at the district's football stadium was expected to generate $50,000, to be split between Star Gameday and the district.
With more than 1 million people passing through the district's venues each year, Vickers said, Star Gameday hopes to build even more momentum from sponsors - and for the company.
"It's a great opportunity," he said. "The overall income could be near a million dollars in five years. Down the road, over half of that, annually, would go to the school district."
Ron Commons, athletics director for Lawrence High School, said that such an approach could be poised for growth in the coming years, as districts continue to be squeezed by ever-tightening budgets. He knows colleagues in other states who, without advertising and marketing revenue, would struggle to even field teams at all.
"Anything we can do to generate some revenue to help offset costs to run our athletics programs would be greatly appreciated," Commons said.
Copyright 2018 The Lawrence Journal-World. All rights reserved. This material may not be published, broadcast, rewritten or redistributed. We strive to uphold our values for every story published.