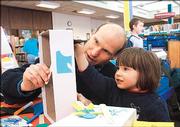 City commissioners want to build a new library, and they want to build it downtown.
Exactly where and how they will build it, though, are still big questions that commissioners and library leaders are trying to tackle.
Commissioners in late February reaffirmed their support for a library project that would nearly triple the size of the 50,000-square-foot library at Seventh and Vermont streets.
"I think we have grossly underfunded our library for years, and now it is time to step up to the plate," City Commissioner Boog Highberger says.
A majority of commissioners said they wanted to move ahead with the project even if, as expected, final building plans come in at more than $30 million.
"I'm supportive of the recommendations because we really have to catch up," City Commissioner Mike Rundle says.
Commissioners have said they believe a public election, perhaps as early as April 2007, would be needed to fund the project. But there haven't been any proposals on whether the project would be paid for through an increase in property taxes or some other revenue source.
-->
Before the planning gets that far along, library leaders say they first need direction on where the library could be built. Commissioners say the library must remain downtown, but it is uncertain whether a new 125,000- to 140,000-square-foot building could comfortably fit on the current site.
The library's board has begun the process of officially requesting proposals from interested downtown developers about how the library could be part of a public-private partnership at another downtown site.
City commissioners, though, also have directed the board and its consultants to keep working on design concepts that would allow the library to remain at its current site. The current site is viewed as attractive because the city already owns the ground, and commissioners like that it is convenient for children and families who use the Lawrence Outdoor Aquatic Center across the street.
Commissioners also have said they aren't crazy about the idea of moving the Douglas County Senior Center and Fire Station No. 1, which are just south of the library, to make room for a new building at the site. Instead, a new library at the site likely would have to be a multistory building with a parking garage that is adjacent to the building or underneath the building. Planners have said that ideally the new library would have about 400 parking spaces, up from about 125 parking spaces there today.
Whatever the design of the building is, Bruce Flanders, executive director of the library, says it will need to include several key areas. Flanders says a new library would need space for at least 100 additional public-access computers, a drive-thru lane and specially designed rooms to keep teenager interested in reading and learning.
He also says the new library should include much more children's reading space and significant amounts of new community meeting space. As for the look, he says new libraries often take on much more of a feel of bookstore that markets to readers rather than a traditional library that is defined by stacks and stacks of books.
"What excites me more than anything is the promise of a library facility that will satisfy the information needs of the community, and will do it in a way that the community will be proud of," Flanders says.
Commissioners likely will receive proposals for public-private partnerships this spring or early this summer.
Copyright 2018 The Lawrence Journal-World. All rights reserved. This material may not be published, broadcast, rewritten or redistributed. We strive to uphold our values for every story published.