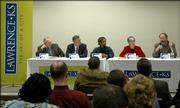 Local governments have good reason to look toward Topeka during legislative sessions.
A significant amount of time and energy during the sessions is spent on issues that affect city and county governments, and, of course, taxpayers who fund those governments and use their services.
The 2006 session has been no different.
From tax cuts to the process of condemning land to cable television competition, the Legislature has wrestled with issues crucial to local governments.
Essentially, when the Statehouse sneezes, local governments catch a cold.
"We are always concerned with mandates and are still vigorously looking at those," Lawrence interim city manager David Corliss said. "We are concerned with any legislation that takes away our authority to provide essential services."
In recent years, the goals of state representatives and cities and counties have sometimes been in conflict, especially when tight budgets forced the state to cutback revenue sharing with local governments.
Tax changes
This year, lawmakers and Gov. Kathleen Sebelius joined in calling for elimination of the property tax on new business machinery and equipment.
While the $300 million tax cut would look good on postcards for re-election in state races, it would mean less tax revenues for cities and counties.
"Our primary concern is that the Legislature realize it wasn't a tax cut, it was a tax shift," said Douglas County Administrator Craig Weinaug. "It will cause property taxes to go up."
State leaders, however, have claimed that removal of the tax will produce more revenue by increasing economic development. Local governments and state officials have negotiated on ways the state can make up the lost tax revenue, but few expect the mitigation to equal all the lost taxes.
Property rights
State lawmakers also have zeroed in on the powers of eminent domain where governments can condemn private property for other projects.
Angered by recent court rulings that have allowed controversial condemnation proceedings, property rights groups have sought limits on governmental power of eminent domain.
Traditionally, governments have used eminent domain to buy private land for public projects, such as roads, bridges, utilities.
But in recent years, governments have increasingly used eminent domain for economic projects where the government condemns and buys private property and turns the property over to a developer to build a business or entertainment district.
Many property-rights advocates say this wide application of eminent domain can put every person's home or business in jeopardy.
"It's a weighting issue between personal property rights on one hand and the rights of the public to stimulate the economy for the benefit of most," Weinaug said. "It's a very important issue for the counties."
City and county officials have urged state lawmakers to not overreact to recent court decisions because the power of eminent domain has been useful in bettering the quality of life.
"Every single use of eminent domain in Kansas used for economic development has resulted in sometimes a 100-fold increase in the tax base," Weinaug said.
On another front, cities were opposing legislation that would allow AT&T; a statewide franchise to compete with cable television companies and provide new video services. Currently, these franchises required of cable companies are granted by individual cities.
All told, there are dozens of issues that come up in the Legislature in which representatives from cities and counties testify and lobby to provide their perspective and viewpoint.
"We are in a lot of battles," said Kim Winn, director of policy development and communications for the League of Kansas Municipalities.
Copyright 2018 The Lawrence Journal-World. All rights reserved. This material may not be published, broadcast, rewritten or redistributed. We strive to uphold our values for every story published.