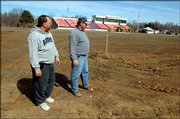 Baldwin — Baldwin is growing, and more expansion is ahead for this southern Douglas County town.
New housing subdivisions are going up. A new community and recreation center will probably become reality in a few years. Improvements are ahead for the city's parks.
And Baker University is making improvements of its own, including renovation to the Charlie Richard Sports Complex.
"Quality of life issues are things we are trying to concentrate on a little more strongly this year," City Administrator Jeff Dingman said.
City officials also are redrafting its comprehensive development and long-range land-use plan to help guide future decisions.
"That will be a significant project this year to kind of give us some direction as to where we want to go," Dingman said.
A feasibility study was ordered late last year to determine the city's needs for a community building and recreational needs. The study is being conducted by Ballard-King Associates of Missouri. Ballard-King received $15,600 for the study from the city, Baldwin school district and the Baldwin Recreation Committee.
No location for a community center has been selected, but if one is built, one site to be considered is near the golf course where the city and school district have land. Last year the city purchased the Baldwin Golf Course, which has nine holes on 63 acres. A nine-hole course probably needs no more than 40 acres, and thus some of that land might be used for a center or other recreational uses, Dingman said.
City officials want to develop the parks more and make better use of the park space it already has. That project would include updating and adding park grounds equipment, Dingman said.
"We're going to be looking at all sorts of recreation needs and wants for the city," he said.
On another city growth front, construction activity is continuing in housing subdivisions, primarily on the city's north and east edges.
Phase four development in the Fire Tree subdivision is filling up with lots for houses, Dingman said. Work is ahead for phase six, where at least an additional 40 lots will be located. The Signal Ridge subdivision continues to fill up, as does Heritage subdivision on the northeast side of town.
"It seems we have a lot of lots, but they seem to be moving pretty well," Dingman said.
Mayor Gary Walbridge said he welcomed the city's growth, but he sounded a note of caution.
"It's pleasing to see the growth, but I'm concerned about managed growth," he said. "I don't want to see our growth outgrow our infrastructure."
At Baker, work is under way building a new eight-lane track and installing synthetic turf at Liston Stadium. Each project cost more than $500,000 with total renovations projected at $2 million. The construction work forced the Baker track team to practice and hold its meets elsewhere.
Football coach Mike Grossner welcomed use of the synthetic grass.
"We can now sell our stadium in our recruiting efforts, and our community's sports teams will benefit from a great surface," he said.
Track coach Rob Mallinder was equally excited. "I am especially excited about those athletes who have worked so hard under trying conditions, who will finally have a facility that not only makes them proud, but also a facility where they can achieve their fullest athletic potential," he said.
Other renovations include improvements to visitor bleachers at the football stadium and to the softball field.
Copyright 2018 The Lawrence Journal-World. All rights reserved. This material may not be published, broadcast, rewritten or redistributed. We strive to uphold our values for every story published.