Free State High softball player Catherine Smith couldn't talk much through the huge grin on her face.
The reason she was smiling so much was her two-hit shutout of Olathe North on Thursday, finishing off the Firebirds' sweep of the Eagles.
"I just knew what I had to do and we got it done," said Smith of her 3-0 victory. "We had great catches, great defense - a great team."
That great defense included a stumbling catch near the right-field foul line by Rosie Hull that got a roar from the crowd.
"She (Smith) has a lot more confidence now, and I think we're really supporting her more in the field," second baseman Livi Abney said. "In the beginning of the year, we were making a lot of errors, but now she's hitting her spots and getting the job done."
Free State coach Pam Pine said the improved play in the field definitely aided the pitchers.
"We've been trying to work on mental errors, and then physical errors kind of take care of themselves," Pine said. "We've been working really hard at doing a lot of repetitions, a lot of fielding ground balls, a lot of working together, talking about what the situation calls for. They're just learning the game better. They're becoming more knowledgeable and taking ownership of the game."
Abney, in particular, took ownership of both games.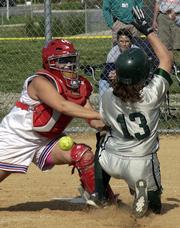 The Firebirds' leadoff hitter was a combined 3-for-4 with two RBIs and a run scored. She also drew three bases on balls.
"Livi has been hitting the ball very well," Pine said. "She knows the game well, she works very hard. I'm counting on her, and she knows that. That's why she leads off, because her on-base percentage is way out there. ... She's a key to our offense - to get it going."
Kelsey Leinmiller-Renick also played a key role in the two-game sweep. She was a combined 3-for-6 with two RBIs and two stolen bases.
Summer Mulford was no slouch on the mound in the Firebirds' opening 4-1 victory.
It wasn't until the sixth inning, after a misfired attempt to gun down a runner at third by catcher Allie Hock, that an Eagle base-runner reached home.
"We were a little flat coming out and weren't real talkative and things like we normally are," Pine said. "And I always get nervous trying to keep the girls focused and their concentration level up, but they came back and did a good job.
"We got some hits together, played good defense and we had good pitching. Both Summer and Catherine did a good job."
The softball squad will have double duty Monday, playing host to Shawnee Mission West and Leavenworth in single games.
Copyright 2018 The Lawrence Journal-World. All rights reserved. This material may not be published, broadcast, rewritten or redistributed. We strive to uphold our values for every story published.