Gas prices are skyrocketing again, and motorists aren't the only ones gritting their teeth.
"It just keeps going up, and everything we do takes gas," said Ray Brown, owner of Quality Lawn Care in Lawrence.
Lawn caretakers, towing services and car dealers are all seeing the effects of gasoline prices approaching the $3 per gallon mark. The average price of regular unleaded gas in Lawrence on Thursday was $2.76, according to AAA Kansas.
Many businesses are having to raise their prices for products and services, including those in the lawn care business.
"Last year we just ate the costs, but this year I just couldn't afford to continue that another year," Brown said.
Most of his customers understand the dilemma his business faces, Brown said.
"You just can't afford to operate losing money," he said.
The average cost to fill up a 15-gallon tank of gas in the Lawrence area was $40.56, AAA reported. That is $8 more than a year ago.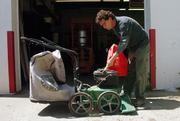 It is enough to make customers visiting auto dealerships trade in their big trucks and sport utility vehicles, Lawrence auto sales managers said. Small compact and hybrid cars are often sought at Crown Toyota, 3330 Iowa, sales manager Brendan Dow said. Interest in those vehicles started increasing last year when gas prices shot up in the wake of Hurricane Katrina, and it has been especially high during the past week, he said.
Customers at nearby Crown Chevrolet are looking at cars that can get 30 miles per gallon of gas, sales manager Bob Wright said.
"We've actually started beefing up our inventory on the car line more than the truck line and the SUV line, just to get ready for the high gas prices," he said.
The dealership also is being more cautious about taking big truck and SUV trade-ins.
"We are finding buyers for them before we trade for them," Wright said.
Jerry Taylor certainly knows how much fuel it takes to keep a big truck on the run. The owner of Hillcrest Wrecker and Garage said fuel was his main expense other than labor. While it affects the rates he charges, he is at the mercy of the auto clubs, he said.
"Motor clubs are not raising the rates they pay us quickly enough to compensate for the increasing gas prices," Taylor said. "I don't know how you compensate when the price goes up 10 cents overnight and then 10 cents again."
Oil prices on the world market right now are "completely out of control," said Don Green, chemical and petroleum engineering professor at Kansas University.
"It's dictated by the international situation, the demand in the world and what's going on in the Middle East," he said.
That, plus recovery of oil from reserves or from sites in the U.S. has been declining for a number of years, Green said. This country's reserves are small anyway compared with those in the rest of the world, he said.
Current technology only allows about a third of the oil to be recovered from a site because of a variety of physical and economic limitations, Green said.
"There are a lot of what are called improved oil recovery techniques, but at best we might get up to 50 percent of the oil in one place," Green said.
As gas prices continue going up, people are taking a new look at an old way of mowing grass.
"We are selling more and more of the push mowers that don't have motors," said Tom Cottin, owner of Cottin's Hardware & Rental, 1832 Mass.
Copyright 2018 The Lawrence Journal-World. All rights reserved. This material may not be published, broadcast, rewritten or redistributed. We strive to uphold our values for every story published.