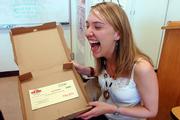 Papa John's Pizza presented Laura Parkinson, a senior at Lawrence High School, with a $1,000 scholarship Thursday.
"I was so surprised," said Parkinson, who plans on pursuing a journalism degree at the University of Missouri.
Her check was stuck inside one of several Papa John's pizza boxes delivered during her Advanced Placement Literature and Composition Class.
"They said I'd ordered all these pizzas and Coke, and that I'd have to pay for them," said Parkinson, 18. "When I said I didn't have enough money, they showed me the check."
A National Merit Scholar, Parkinson is editor of the LHS student newspaper, The Budget. She is the daughter of Wayne and Mary Parkinson, Lawrence.
Copyright 2018 The Lawrence Journal-World. All rights reserved. This material may not be published, broadcast, rewritten or redistributed. We strive to uphold our values for every story published.