Photo Gallery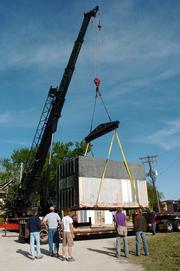 House moving
Kansas University architecture students load up modules containing a home they built during the last five months that will be reassembled in a Kansas City, Kan., neighborhood.
With the help of a crane, 20 Kansas University architecture and design students were this morning moving their latest creation - a unique modular home - from an east Lawrence warehouse to a Kansas City, Kan., neighborhood.
The house is the product of Studio 804, a KU School of Architecture and Urban Design class that annually designs and constructs a house over a period of about five months.
In past years, the Studio 804 projects have won the class national acclaim. In 2004, the class project won Architecture magazine's Home of the Year. Both the 2004 and 2005 houses won Project of the Year awards from Residential Architect magazine.
This morning, students, who are led by Dan Rockhill, a KU professor who oversees the project, loaded up five modules that contain the house, which will be reassembled when it arrives at an elevated lot at 534 Riverview Ave. in the Strawberry Hill neighborhood in Kansas City, Kan.
The 1,200-square-foot, two-bedroom, one-bath house uses sustainable materials and building practices - those that are in balance with the environment. Its interior floors are made of bamboo, a quickly renewable natural resource. The exterior is Douglas fir, a certified sustainable softwood. One room has a movable wall, so homeowners can fit the space to their needs.
The class creates the house as a volunteer effort and students are not paid for their labor. Past houses have sold for $140,000 to $165,000, with the money carried over to help fund next year's project.
Photo Gallery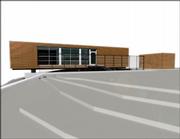 Modular 3 House
Copyright 2018 The Lawrence Journal-World. All rights reserved. This material may not be published, broadcast, rewritten or redistributed. We strive to uphold our values for every story published.