Topeka — Democrat Nancy Boyda said Wednesday that she had figured out how to beat U.S. Rep. Jim Ryun, a five-term Republican incumbent.
Boyda, of Topeka, said she would turn down any help from Washington consultants, and she wouldn't spend time talking about GOP campaign finance scandals.
Instead, she said she would focus on health care, closing tax loopholes that currently benefit "mega corporations," and getting the money-changers out of Congress.
"Nothing is going to change until we change Congress," she said.
In setting up a rematch against Ryun, of Lawrence, Boyda told approximately 200 supporters at a Capitol rally, "My Momma did not raise a quitter, and we are going to get it done this time."
In 2004, Boyda, a political newcomer, and Ryun, a legendary Olympic runner, engaged in a contentious race that Ryun won 56 percent to 41 percent, with the rest going to a Libertarian candidate.
The district includes western Lawrence, Topeka, Manhattan and a large swath of southeast Kansas.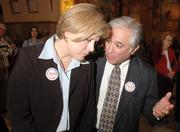 This time around, Boyda spent much of her rally speech decrying the pull of money in Congress.
"Big money doesn't just influence Congress; it absolutely controls it," she said.
Currently, pharmaceutical companies are in charge of the nation's health care policy, while oil and gas companies run the energy policy, she said.
"The administration and Jim Ryun have brought this control of big money to a point not seen in this country for over 100 years," she said.
Ryun's chief of staff, Mark Kelly, said Boyda's charge was "a page right out of the Democrats' standard campaign playbook in Washington.
"It's a charge candidates resort to every election cycle when they have no ideas to offer the people of Kansas."
But Boyda said Congress needed to spend more time trying to help families and strengthen the economy instead of arguing about abortion and gay marriage.
Ryun has been one of Bush's most stalwart defenders of the war in Iraq, but Boyda said the U.S. needed to set a timetable to leave.
"Going into Iraq was a mistake. Our troops have done a fabulous job, but I don't think our country is safer at this point," she said.
And she disagreed with Ryun's vote for an immigration bill that would have made felons out of people here illegally and those who may have provided humanitarian aid to them.
Boyda said businesses that knowingly hire illegal immigrants should be punished. Once enforcement is under control, she said, "then we make certain good, hard-working people have a clear path to guest worker status or to full-citizenship status."
Democrats have hammered Ryun lately for campaign funds he has received from indicted former U.S. House Majority Leader Tom DeLay, and a house he bought from a nonprofit group connected to convicted lobbyist Jack Abramoff. Ryun has defended his contributions and purchase of the house.
But Boyda told reporters she wouldn't comment on those issues and instead would let voters decide what they thought about them.
Copyright 2017 The Lawrence Journal-World. All rights reserved. This material may not be published, broadcast, rewritten or redistributed. We strive to uphold our values for every story published.