Topeka — U.S. Rep. Jim Ryun, a Lawrence Republican and former record-breaking Kansas University runner and Olympian, was re-elected to a fifth two-year term to represent the 2nd Congressional District, which includes western Lawrence.
Ryun defeated political newcomer Nancy Boyda of Topeka, 55 percent to 42 percent in the sprawling district that spans the northern and southern borders of Kansas. Libertarian Dennis Hawver of Ozawkie received the remainder of the vote.
"It has been a tough battle," Ryun said to supporters around 10:45 p.m. and before Boyda gave her concession speech. "It has been a very spirited campaign."
He said he wanted to make President Bush's tax cuts permanent and to try to lower health-care costs.
Boyda who recently moved into the 2nd District from nearby Johnson County, spent nearly $1 million trying to win.
Many thought Boyda, 49, gave Ryun, 57, the toughest political challenge he has faced since first elected in 1996.
Boyda conceded shortly before 11 p.m.
"Running a first-time campaign, we gave it everything we could have," she said. She called the campaign a "labor of love."
The contest turned nasty early.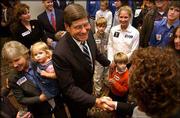 Boyda cast Ryun as an out-of-touch ultraconservative who hid his true agenda with "Washington double-speak." Ryun depicted Boyda as a war-protesting interloper with liberal ideals.
Boyda launched the first volley after a New York Times article named Ryun as one of three congressmen who fought against a Pentagon effort to rein in unscrupulous insurance agents and financial-services salesmen selling policies to soldiers.
Boyda said Ryun was more concerned with protecting insurance companies that had contributed to his campaign than in protecting troops from high-pressure and improper sales tactics.
But Ryun said he opposed the Pentagon because it wanted to bar all insurance salesmen from military bases. He said he supported going after the crooks but didn't want a broad prohibition on private insurers selling on bases.
He hit back with an ad that accused Boyda, who earlier had protested President Bush's run-up to the war in Iraq, of being in league with an organization that opposed hunting Osama bin Laden.
U.S. House 2nd District
Nancy Boyda
119,057
41 %
Dennis Hawver
7,391
3 %
¢ Jim Ryun
162,134
56 %
798 of 798 precincts reporting
Boyda denied the charge and repeatedly called on Ryun to apologize for questioning her commitment to U.S. troops. Ryun refused.
Ryun also repeatedly accused Boyda of trying to buy a seat in Congress because she contributed nearly $300,000 in personal funds to her campaign.
Boyda said that money came from a lifetime of savings, and her willingness to use it in such an uphill struggle represented her commitment to trying to defeat Ryun.
Copyright 2018 The Lawrence Journal-World. All rights reserved. This material may not be published, broadcast, rewritten or redistributed. We strive to uphold our values for every story published.