Erina Houk was so surprised by her dominating victory in the 500-yard freestyle Tuesday in Lawrence High's Knox Natatorium that when told she was needed by a reporter, she thought she had been disqualified.
It was that kind of day for Houk and the LHS swimmers, who won a home meet by scoring 547, defeating Topeka (472), Leavenworth (454), Topeka Seaman (349), and Topeka West (225).
"I'm pretty excited," LHS coach Ryan Adams said. "Back in the day it was kind of like, 'It's just Topeka' or 'It's just Leavenworth,' but now they are all really good, and I think that we swam hard and worked hard, and that's what won it for us."
In the 500 free, Houk sprinted the entire race instead of saving energy. She won in 5:55.39, almost 25 seconds ahead of second place, and didn't know she was that far ahead until after the race.
"It felt really good," Houk said. "It was really surprising. I got my best time, and I beat everyone else by like a 50, which was definitely unexpected."
The electronic starter went belly-up after the meet's fifth event, so the start of each event had to be signaled by a whistle instead of the customary horn. Also, the timing device malfunctioned, starting some races on time and others late.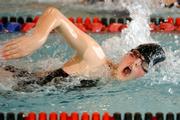 Hand-recorded times had to be used for several races, including one that caused controversy - the 200 free relay.
It appeared Lawrence's Kristi Rudman had touched the wall before a Leavenworth swimmer. The electronic timer, which started two seconds late for all lanes, also showed Rudman touched the wall just ahead of her opponent.
Officials conferred, however, and used the times submitted by the timers in the two lanes, giving Leavenworth the victory.
"I totally thought we won," Adams said. "Even the touch pad said that we won. But we were having issues with that today, so they decided to go with the timers' times, and I guess those came up differently."
Rudman won the 100 breaststroke and the 200 IM and qualified for the state tournament after her time in the 200. Erin Eifler (200 free) and Meredith West (one-meter diving) also qualified.
Copyright 2018 The Lawrence Journal-World. All rights reserved. This material may not be published, broadcast, rewritten or redistributed. We strive to uphold our values for every story published.